3 Ways To Wear A Denim Shirt To Work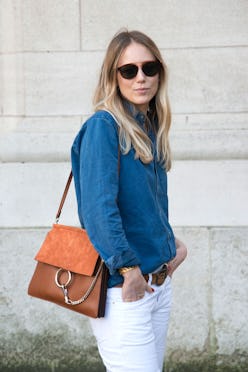 Are your office ensembles becoming a bit too formulaic—or dare we say, mundane? Shake things up with the unexpected must-have you probably never thought could make a cameo in the workplace: The denim shirt. This 9-to-5 workhorse pairs perfectly with just about any print, color and texture in your closet. (Consider it your new neutral.) Ahead, 3 fresh ways to sass up your working-girl wardrobe in a flash.
Photo: Getty Images
The Must-Have Shirt
Click through for 3 work-appropriate ways to wear it.