3 Fashion Experts Are Celebrating 50 Years Of Sunglass Hut With The Latest Pair Of Prada Shades
Bold and avant-garde, these shades are an essential springtime accessory.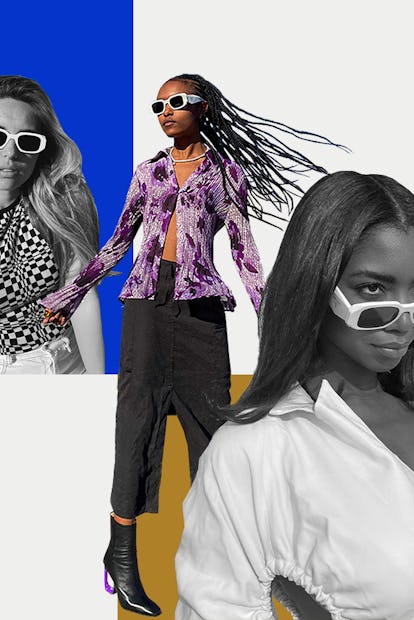 A simple pair of sunglasses can be transformative. Angular cat-eyes, retro rectangles, timeless aviators — regardless of shape, their styling power is unrivaled. Your shades should reflect your authentic self, and make any look feel unique to you.
For 50 years, Sunglass Hut has been the ultimate go-to eyewear destination, offering countless options for any style, outfit, or occasion. To celebrate this milestone, we teamed up with the retailer and three stylish women to show off one very cool pair of Prada shades. These futuristic sunglasses from the Spring/Summer 2021 collection feature a white acetate frame, sharp triangular facets, a bold rectangular shape, and dark gray lenses. On the temples sits the classic Prada logo, a nod to the brand's iconic heritage.
For creative ways to bring this trend to life, three inspiring women show us how their Prada sunglasses add the perfect finishing touch to their signature spring looks. Here, they share their advice for taking outfit risks (hint: just go for it), their tried-and-true accessorizing tips, and how they're making these sunglasses their own.
Destiny Joseph
Model & Creative
Destiny Joseph, who often takes style inspiration from old movies, TV shows, and past eras, is always considering ways to add excitement to a look. The "wider frame of these sunglasses gives me a '70s feel, but in a fresh and modern way," she says. It's that retro vibe that makes a '90s-style tie-dye button-up and black ankle-length skirt feel now — and not three decades too late. "Depending on the shape, color, or size of your frames, they can brighten up or tone down a look. I love how this pair makes me feel bold and gives me the urge to try new things."
Aemilia Madden
Senior Fashion Editor at The Zoe Report
For Aemilia Madden, "sunglasses are the kind of accessory that shouldn't be taken too seriously — the right pair can make even the simplest jeans and tee outfit feel more dressed up." Going for a look that's unfussy and laid-back, she opted for a mod-inspired black-and-white tank top and white, wide-leg jeans combination. "The key is to always keep your style authentic — you never want what you put on to feel like a costume. That could mean styling multiple statement pieces together to create a cohesive, bold look, or toning it down with more casual items. It's really about feeling comfortable in what you put together."
Tatiana Elizabeth Price
Business Owner, Mother, & Model
"Depending on where I am going or what I'm going for, I will plan a look around an accessory," says Tatiana Elizabeth Price. "I love a statement piece that not only completes an outfit, but is something that will make people think 'where did she get that?'" These sunglasses epitomize that feeling. Styled with an all-white deep-V-cut blouse and mini skirt to play off the chalk white color of the shades, they add character to a seemingly simple look. "I love that a basic outfit can be elevated with a more daring accessory," she says. "These glasses are eye-catching and say 'Hey! Look at me,' in a bold yet subtle way."