These Are The Zodiac Gifts Stylish Women Want
Courtesy of Stone and Strand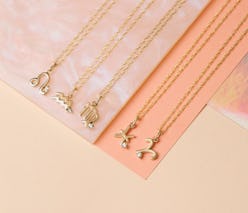 Everyone has that one friend who's completely consumed by the cosmos — if Mercury is in retrograde, this pal lets you know. Going beyond a daily horoscope fix, cool astrology gifts are exactly how to delight this zodiac-obsessed friend during the holidays. But, the difficulty with star-sign inspired gifts is that they can often skew a little cheesy. Before you write-off finding something celestial for the Susan Miller super fan in your life though, know that there are stylish options out there.
In fact, cosmic trinkets are an ideal gift for friends beyond the astrology enthusiast. "Zodiac gifts offer a renewed take on personalized gift selection," says Kesslie Williams, a style expert for Anthropologie who recommends affordable pieces like a cosmic candle, zodiac journal, or piece of constellation jewelry. "It demonstrates an additional level of care — it shows the recipient that you took the time to remember a detail about them when putting the gift together."
If you're able to spring for fine jewelry, everything from zodiac charms to galaxy-inspired pendants are great way to show an affinity for the stars. "Zodiacs are to 2018 what nameplates were to the '90s. It's a fun way to wear your personality out loud," says Nadine McCarthy Kahane, founder and chief operating officer of the jewelry retailer, Stone and Strand, who's in favor of fine 14-karat gold pieces over craft-store-style baubles. "Rather than a T-shirt or a pair of socks, a piece of zodiac jewelry can be just as special and core to a jewelry collection as a nameplate necklace or classic pair of diamond studs."
Jewelry is incredibly personal as it is, and for astrology lovers it doesn't get better than a piece with their star sign incorporated. "Everyone loves a personalized token especially when it comes to their jewelry," says jewelry designer Jacquie Aiche. "Whether you choose a delicate charm or a beautiful opal inlay, I feel there's such a special energy when the beauty of jewelry is combined with the personal power of astrology."
Selin Kent, a New York-based jewelry designer says to look for high-quality materials to ensure chic, non-cheesy vibes with zodiac jewelry. "My Stella Zodiac Necklace is handmade in New York from the finest materials — the solid 14-karat gold disc has a nice weight to it and is set with white diamonds. It's a minimal piece, but a lot of thought has been put into making sure it has a luxe feel and is balanced in terms of design."
For the fashion-loving friend on your gifting list, celestial-inspired clothing and handbags are incredibly on-trend with offerings. Designers like Saint Laurent, Prada, and The Attico have put out divine pieces from an embroidered velvet wrap dress to a luxe, constellation sweater and astrological bags. When styling star-sign pieces, Shopbop's fashion director, Caroline Maguire suggests a layered approach. "I am loving the Ella Dress from Rhode Resort — it's chic and easy to wear on its own, but I love it styled over a pair of jeans for fall and winter."
Ahead, shop the edit of cool astrology gifts that the leo, libra, and capricorn in your life will all approve of.