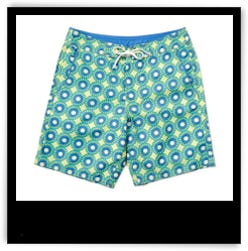 We showed you our favorite swimwear selections for the ladies earlier this week, so now it's time to suit up the boys. Click through to explore our top trunks, and don't forget to share them with the men in your life.
Bonobos, Board Shorts, $75
"For surfer dudes not afraid to make a statement, we humbly suggest these lime green shorts with a bold medallion pattern."
AllSaints, Sherlock Swim Shorts, $80
"We love the tropical theme of these board shorts, naturally. Their neutral coloring prevents them from becoming too over-the-top."
Orlebar, Brown Deep Sea Trunks, $295
"Featuring a digital print from the Getty Images archive, these limited edition nylon bottoms have a tailored fit that is too good to pass up."
Quicksilver for J.Crew, Swim Shorts, $75
"From the always-cool Quicksilver label, we endorse this pair for their predominantly red hue, floral-print paneling and Velcro closure."
The Break , Trop Pop Swim Shorts, $95
"Naturally faded, these modern trunks have a vintage feel that will prove timeless in one's swimwear arsenal."