12 Key Pieces To Shop From The Upcoming Simone Rocha x H&M Collab — All Under $350
Ruffles, tulle, and plenty of pearls.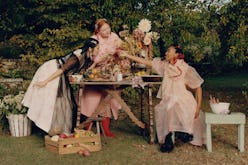 If the idea of sheer tulle dresses, ruffled hems, pearl-studded brogues, and delicate bow details sounds like your sartorial dream come true, then you'll be happy to know that the Simone Rocha x H&M collection is just around the corner. The collection is a true celebration of the last 10 years of Rocha's career, drawing influence from her signature design motifs while paying homage to her family's multicultural background stemming from Hong Kong to Ireland.
Trust us when we say this collaboration has it all: There are pieces fit for days when you want to feel a little done up, such as sheer, tulle dolly dresses, and everyday staples that have a little something extra, like tartan ruffled trousers and bead-embellished T-shirts. While there are plenty of Rocha's trademarks throughout the collection — a feminine fever dream filled with romantic fabrics and lush florals — the collaboration also features Rocha's first foray into menswear and children's apparel. There's even a first-time beauty product in the form of a cheek and lip tint.
And as far as accessories go, marabou-trimmed slippers, beaded earrings, pearl-accented headbands, and neoprene handbags round out the collection, providing everything you need to live out your Simone Rocha fashion fantasies, all at H&M's accessible price point. The entire 65-piece collection launches 3/11 exclusively at HM.com. To make things easier, we've selected 12 of our favorite pieces, zeroing in on all of the irresistible design details that are undeniably Simone Rocha.
Go forth, and may the tulle gods be with you.
Dreamy Tulle
There's something about tulle that can turn any environment into an ethereal wonderland. The best part about it? You can get really creative with layering: Go all out by wearing a tulle dress over a slip, tights, and platforms, or create a perfect casual look by layering a simple tee underneath.
Playful Ruffles
A ruffled hem transforms a traditional pair of trousers into something almost whimsical. Pair these tartan pants with a crop top of any kind — a cozy sweater or puff-sleeved blouse — or make it a little more punk with a motorcycle jacket and lace-up booties.
Pretty Pearls
Pearl accents add a special touch to just about any look. A pearl-trimmed neckline can elevate a simple knit pullover and even make a traditional pair of brogues feel playful. Pair these shoes with anything from tights and skirts to jeans for an effortlessly-chic touch, or opt for a face-framing statement headband.
This article was originally published on