Reflecting On Last Year's Women's March And Everything That's Happened Since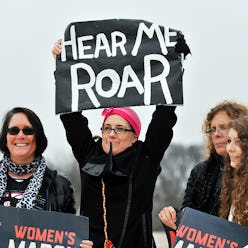 This week, a giant uterus sculpture—with boxing gloves standing in for its ovaries—came to Sunset Boulevard in Los Angeles. It's an artwork by Zoe Buckman, commissioned by the Art Production Fund, and supported by Alice & Olivia. The piece is called Champ.
Photo Credit: @artproductionfund
That such a sight now vies for attention among the Strip's patriarchy-reinforcing billboards (e.g. traditionally beautiful models making goo-goo eyes at men in suits drinking expensive alcohol) feels fitting for the radical moment in which we're currently living. This is especially true given that the #MeToo movement, as we understand it today, originated in the entertainment industry to which Sunset Boulevard is forever tied thanks to the 1950 movie Sunset Boulevard, essentially a commentary on the (patriarchal) devaluing of women as they age.
Champ stands up to what Sunset Boulevard represents much in the same way Fearless Girl has to Wall Street since March of last year. Both artworks are indicative of resistance. Last year, when I wrote this piece on surprising things the women's movement accomplished historically, I had no idea how much this new incarnation would achieve within the next 365 days.
Photo Credit: Getty Images
As that piece was published, I was attending the first Women's March on Washington DC. It was the most memorable day of my life, but I was not alone. An estimated 5 million women protested worldwide. Trump's perceived anti-women statements (and his administration's anti-choice views) may have sparked the movement, but they were not, as we would all soon see, the sole reason for protest.
Months later, actresses Rose McGowan and Alyssa Milano instigated another worldwide movement connected to equality, which we now know as #MeToo—a hashtag that toppled power structures in place for decades or even, one could say, forever. Overnight sexual harassment was transformed from something women simply put up with to a crime punishable by the loss of one's livelihood. As men were removed from power, women gained it.
The #MeToo movement went beyond exposing all-too-typical workplace harassment, of course. It shined a light on constructs and even specific institutions that enabled outright abuse. Olympic gymnast Aly Raisman and 265-plus others took down one man, Larry Nassar, a doctor who'd been abusing children regularly under the guise of his profession. They are now, with Aly leading the charge, working to hold the institutions that enabled Nassar—namely the US Olympic Committee and USA Gymnastics—accountable.
Photo Credit: Getty Images
These heroic acts are breaking down systems so they can be rebuilt as safe spaces for women, wherein they're no longer beholden to powerful men in order to earn a living. It's an incredible thought, one I hope future generations can take for granted just as we often take for granted the momentous gains achieved by prior women's movements, such as the right to vote.
Currently, the women's movement is vast in scope and objective. Some are fighting for reproductive rights. Some are fighting against abuse and harassment. Some are fighting for greater inclusion of the LGBTQ community and for those who identify as female. Others have taken on the causes of allies, such as Black Lives Matter. Many have engaged in the fight for gun control. All are hoping for equality that amounts to safety—physical, emotional, financial and more—for a greater number of individuals.
The big push now, at least for the Women's March, the group that organized the 2017 event of the same name, is called #PowerToThePolls. 2018 is a midterm year, which means elections will shape (or reshape, potentially) the Senate and therefore the implementation or elimination of policies that affect women (and everyone else). This movement is working to register people, specifically in swing states, to vote while creating awareness about when and how voting will take place. Primaries have already begun in some states (Texas primaries take place March 6, for example). If you don't know when your state's elections will be held or how to participate, this tool can help. If you simply need to register to vote, try here.
Photo Credit: Getty Images
Regardless of your politics and how you will vote, your voice matters. Women are actually the majority in America, and our political systems do not come close to representing this reality. They don't, in other words, represent us, and they can't unless we contribute our voices to the process.
This is what the women's movement is about—being heard. A man can't know what it's like to be a woman. We need not only to elect more women, but also, as that process unfolds slowly over time, to continue to tell the men in power what we want, what we need and how we hurt. As Zoe Buckman's powerful sculpture suggests, we have to fight. After all, as Rose McGowan, Aly Raisman and so many more have shown, men aren't the only ones who can be champions. For themselves. For others. For a better future.
Photo Credit: Getty Images