The Self-Acceptance Mantra To Repeat While Watching The VS Show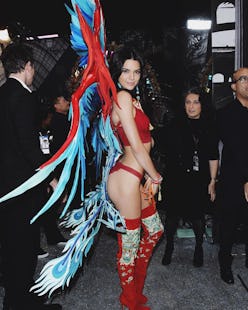 Tonight, women around the world will sit in front of their TVs, watch the Victoria's Secret Angels strut pseudo-naked down the runway, and consequently scrutinize their own bodies. We're guilty of it too, but we'd like to take this opportunity to acknowledge the impossible standards set forth by these hardworking and genetically blessed models. Born with enviable proportions that align with our society's definition of beauty, they also work incredibly hard to cultivate their toned physiques. From what we understand, even they do not spend 365 days a year looking the way they do on that long, glittering runway.
Irish model Thalia Heffernan (who does not walk in the show) took to her Instagram to post a photo promoting body positivity ahead of the 2016 Victoria's Secret Fashion Show airing on CBS. In her caption she writes "Like an athlete, these girls train hard and dehydrate before this show every year, it's an unobtainable image to strive towards. Not even those stunning girls look like that 365 days a year, prep is key and a crucial part of the run up to shows like that." She also adds, "No matter what, you are still beautiful. Your shape or size or features do not define you! No one can ever be you. You only come around once in a lifetime, so don't ever be ashamed to be who you are. Everybody is beautiful."
So while you enjoy the spectacle that is the VS show—complete with unbelievable costumes, sets and musical performances—repeat Thalia's mantra, and admire their beauty as well as your own.