The Truth Behind The Red And Purple Bruises On Olympians Like Michael Phelps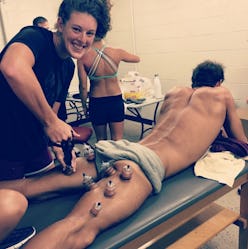 If you tuned in to watch the Olympics you may have seen Michael Phelps win his record-extending 19th gold medal, Simone Biles dominate almost every event in the gymnastics qualifiers, or Katie Ledecky crush her own world record in the women's 400-meter freestyle.
You may also have noticed the red and purple circular marks that were on almost every US athlete, from Phelps and the rest of the swim team to the men's gymnastics team.
No, the athletes aren't suddenly getting into biting massages—they're just working cupping into their recovery process.
While the suction cup technique has been known to reduce stress and promote blood flow for the crazy-busy lives of wellness-obsessed celebs like Gwyneth Paltrow and Jennifer Aniston, cupping is making its way into the routines of the world's fittest athletes thanks to its serious muscle-repairing chops.
"Physiologically, cupping is thought to draw blood to the affected area, reducing soreness and speeding healing of overworked muscles," the New York Times reports. "Athletes who use it swear by it, saying it keeps them injury-free and speeds recovery."
Phelps is one of those tried-and-tested athletes, featuring the technique on his Instagram, in a video for Under Armour, and quite literally on his sleeve during the competition—he had the purple and red marks all over his back during last night's men's freestyle relay race (which they won gold for, BTW).
Check out the full article here to find out how the biggest Olympians stay healthy.