That Time I Made $8,000 Cleaning Out My Closet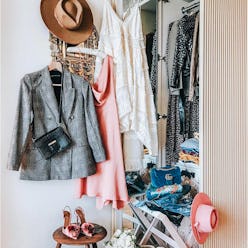 While it's hard for even the most obsessive of fashion fanatics to stay organized, I can honestly say I used to be a through-and-through hot mess—and that's putting it lightly. It has taken the last few years of running a business and constant traveling to realize just how important it is to be at least semi-organized, even some of the time. As an example? Having a makeup bag filled with chargers I always keep in my carry-on has alleviated running around airports in a mad dash to find the right charger before my flight takes off. Yeah, I pat myself on the back for that one. Another one: Planning to do those last-minute tasks the morning before a big meeting? You won't—just get them done before you go to bed. Or else you'll be the one rolling into said meeting 15 minutes late with soaking wet hair and the remnants of your breakfast on your sweater—not a good look (been there!). Once I'd cleared these hurdles, though, my biggest routine-related challenge still remained—organizing my closet.
I used to be a serial shopper (and some may say I still am), but I definitely wasn't a smart shopper. You've probably heard it before: I had a closet full of clothes and nothing to wear. It was filled with impulse purchases like a bright green croc Proenza Schouler bag and a Dolce & Gabbana kilt (!). These items were so specific and trendy, they were even tricky to work into fashion week outfits—the two times a year we're encouraged to really bring it. Then, about a year ago, I had a classic Oprah aha moment. Having raided more than 400 closets, I realized the ones I envied most weren't the ones filled to the brim; they were the ones with a clear, concise point of view. The woman who knows her style, what works and—more important—what doesn't, isn't overly impulsive and shops accordingly. That was the kind of closet I wanted.Before I was able to go out and shop for the brand-new woman I wanted to become, though, two considerable obstacles stood in my way: space and money. My closet was already crammed with stuff I never wore, and this became more apparent the more I traveled: If I could happily dress for two weeks on the road with only one suitcase, clearly I didn't need everything sitting in my drawers at home. And while building a dream wardrobe sounded lovely, I had no way to actually afford it. Years of reckless shopping had left me financially depleted. It was time to get serious and figure out a way to turn my mountain of clothes into a nice, crisp pile of cash … with which to buy more clothes. I had dabbled in consignment in the past and thought it may be the perfect solution to my problem, but I didn't realize just how much I would come to love it. Once I started being honest and ruthless with myself (thanks, Marie Kondo!) about what I wore, what I wanted to keep and what was just a straight-up bad purchase, it was almost as if I couldn't stop. The floor of my bedroom was covered with piles and bags of stuff to sell or donate. I might be going out on a limb here, but it was as if I were being spiritually cleansed of all my neglectful prior purchases. But it also gave me insight into the things I was spending money on that didn't make any sense, and the things I should be investing in. I went to drop off all my stuff at my favorite consignment store in Toronto—VSP, where the owner, Britt, made the entire experience seamless. She went through each piece with me to make sure selling it was the right thing to do. Once my first check came in, I was hooked, and it didn't stop there. Here, some of the lessons I learned along the way.To read the full story, visit Coveteur.