The Ultimate Wedding-Planning Checklist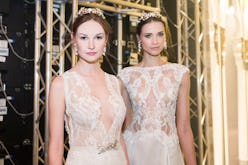 Planning a wedding (while juggling the struggles of everyday life) can get stressful. Since this should be an exciting time, we're helping you get organized—which will also make the whole process much more enjoyable. Here, a month-by-month comprehensive wedding checklist to keep you on track no matter what life (or your future mother-in-law) decides to throw at you.
It'll Be Here Before You Know It
12 Months Before
-Decide On a Budget: Determine how much you will spend, based on your and your families' contributions.
-Reserve the Date and Venue: The best places book far in advance, so call dibs on your favorite venue before anyone else does. It's also important to decide whether you'll have separate locations for the ceremony and the reception; if necessary, factor in travel time between the two.
-Throw an Engagement Party: Celebrate your new engagement with a fabulous get-together. Or if you prefer, skip this step and save that money for the wedding.
10 Months Before
-Pick Your Wedding Party: Think very carefully about who will stand up there with you on your big day. It's a nice gesture to ask them with a thoughtful gift.
-Plan Your Guest List: Consult with your family, fiancé and in-laws. Remember, the more guests, the more expensive it will be.
8 Months Before
-Buy Your Dress: You'll need to give yourself enough time for at least three fittings, allow for back orders, etc.
-Secure Your Vendors: Meet with caterers, photographers, videographers, florists and musicians—all with your budget in mind.
-Shop Save-the-Date Cards: Remember, these will dictate the theme and feel of your wedding.
6 Months Before
-Shop Invitations: Writing addresses for each one is time-consuming, so you need to budget your time accordingly.
-Meet With an Officiant: Secure your officiant for your date and confirm that you have all the necessary documents for the wedding (these vary by county and religion).
-Send Save the Dates: Your guests will need time to plan.
4 Months Before
-Buy Your Wedding Accessories: You've already picked your dress. Now it's time for the shoes, jewelry and veil.
-Order Your Cake: Some bakers require a long lead time. Plan several tastings before committing to any baker—you'll be glad you did.
-Schedule Hair and Makeup Tests: Vet a variety of hair and makeup artists and get a feel for what you like and don't like. Don't forget to see how they look in pictures and all types of lighting.
-Choose Your Playlist: This step can easily be forgotten. Decide what music you and your fiancé want—and don't want—playing during the ceremony, dinner, dancing, etc. This will set the tone and is a great way for you two to show your personalities.
3 Months Before
-Finalize Vendor Details: Food and flowers are affected by season. Now is your time to make final decisions about the menu and your blooms.
-Purchase Undergarments and Plan Final Dress Fittings: Be sure to bring the undergarments you will wear on your wedding day to your final appointment, as this can change the way your dress fits.
2 Months Before
-Send Invitations: Mail invitations six to eight weeks before the ceremony and set a firm RSVP cutoff at three weeks after the postmark date.
-Kick Back at Your Bachelorette Party: Grab a sequined mini and hit the town with your girls.
1 Month Before
-Finalize Your Seating Chart: Draw the table layout and use color-coded sticky notes to keep track of your guests based on the RSVPs.
-Get Your Marriage License: The process can take up to six days; it's better to give yourself plenty of time.
-Confirm Vendor Times: Be sure that everyone involved has a final timeline for the big day and that no details are overlooked.
-Book a Spa Day: Now's the time to get a facial, color your hair, get a spray tan and any other beauty services that can feel risky. You don't want to break out or look orange the day before your wedding.
-Break In Your Shoes: Trust us, you'll be glad you did.