The 6 Cult-Classic Films Every Fashion Girl Should See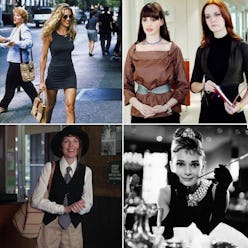 Truth be told, some of our most revered fashion muses aren't even real people, but cult-classic characters whose style captured a zeitgeist on the silver screen. Some of these fictional fashion heroines inspired our stylish leanings to begin with, and some we return to for sartorial inspiration on a regular basis. All are forever modern. Here, 6 we love, and the essential films to watch again and again.
Holly Golightly, Breakfast At Tiffany's
Real-life style icon Audrey Hepburn played Breakfast at Tiffany's fashion-forward main character Holly Golightly, who proves that all you need to pull off a look is the confidence to know you can. Even if that means a tiara and elbow-length gloves.
Carrie Bradshaw, Sex & The City
Known for her love of fashion, girlfriends and cosmopolitans, and an undying obsession with shoes, sex columnist Carrie Bradshaw's life served, for us, as a teen's study guide to life as grown-up. And we're not ashamed to say, it still kind of does. #lifegoals
Cher Horowitz, Clueless
Never in the history of high school has there been a girl with a better closet than Cher. This '90s classic film spotlighted her ability to turn a school hallway stroll into a full-on fashion show.
Annie Hall, Annie Hall
One of Woody Allen's best, Annie Hall is the perfect movie for the fashion girl who is majorly into menswear. Diane Keaton's character, for whom the movie was named, rocks vests, ties and wide-leg trousers with such style and ease you'd think she invented the trend to begin with.
Andy Sachs, The Devil Wears Prada
A night in with The Devil Wears Prada is more than just outfit inspiration (although the clothes are obviously impeccable). The movie serves as a behind-the-scenes peek at what it's like to work for a top magazine. Though the high-pressure world may not be Andy's cup of tea, her dowdy-to-glamorous transformation is the stuff of fashion fairy tales. That's all.
Sylvia, La Dolce Vita
Queen of the sultry black dress and classic European style, Anita Ekberg's vixen-like character of Sylvia embodies the unbeatable inspiration for perfectly unstuffy, old-world elegance.