And The Most Stressed-Out City In America Is…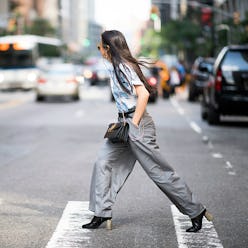 There's no doubt stress is a major health concern (affecting everything from your brain to your heart and even your skin)—and it's completely contagious.
Think about it: Your boss is worried about work stuff, which rubs off on you. Then, you go home and take that out on your live-in loved ones (sorry!) before calling your mom to vent to her, too (again, sorry!), creating a total angst-ridden chain reaction. Soon, your entire office, household and community is afflicted.
According to personal finance website WalletHub, stress levels in the U.S. are on the rise for the first time in ten years, thanks in large part to the current political climate and workplace-related triggers (ahem, challenging commute, annoying coworker or the internet being down again).
So who's getting over-served in the stress department (and spreading it to their neighbors)?
WalletHub performed an in-depth analysis comparing America's 150 largest cities across 30 key metrics (including weekly work hours, commuting time, housing affordability, and divorce rates) and named Newark, NJ, the country's "most stressed" city, while Fremont, CA, got the "most chill" crown.
The 10 most stressed-out cities in the US
Newark, NJ
Detroit, MI
Cleveland, OH
Jackson, MS
Miami, FL
Birmingham, AL
San Bernardino, CA
Rochester, NY
Augusta, GA
Shreveport, LA
For the full article visit Well + Good.