Selena Gomez's Makeup Artist Reveals How She Gets That Glow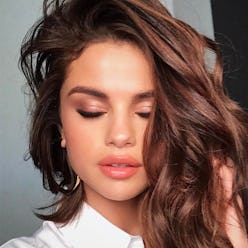 Hung Vanngo knows how to make Hollywood glow. The makeup artist has worked on everyone from Chrissy Teigen to our own September cover girl Selena Gomez. We asked him for his tips and tricks on how he makes Selena (and quite frankly, all of his clients) look so absolutely breathtaking.
What's the secret to glowing skin?
The most important step to makeup is always prepping the skin. Taking the extra few minutes for skincare makes the biggest difference, and is truly the only way to achieve that fresh, long-lasting glow. Do a little exfoliation, a quick mask, and/or a facial massage.
How do you pull off a bold-colored eye on your clients and why are you loving this look?
I have always enjoyed playing with color. I love something unexpected and think it keeps things interesting to throw a pop of brightness into the makeup. The key to this is to keep the rest of the makeup very soft and making sure the skin looks natural and gorgeous. If you skip ahead to the eyes or lips without really taking care of the skin and brows, it won't look great. That goes for any makeup look.
What's the one trick that you use on set if you are crunched for time?
Focus doing great complexion instead of spending all your time on eyes and lips. Once the skin looks good, you can go without lots of eyes or lip colors.
What's one of your fave makeup looks that you've done on Selena?
Selena always looks so amazing with a warm neutral makeup. It can be very soft and natural, almost like a no-makeup makeup look, or sometimes we'll do a warm bronze eye, with peachy tones for cheeks and lips.
Recently in her video for "Fetish", I barely put any makeup on her, and she looked incredible. I just used Dew Drops Coconut Gel Highlighter ($44; neimanmarcus.com) mixed with moisturizer instead of foundation, and gave her faux freckles with a Matte Highliner Gel Eye Crayon in the color "(Earth)quake" ($25; net-a-porter.com). Lastly, she's wearing a sheer peachy lip gloss. It's called Enamored Hi-Shine Lip Lacquer in "French Tickler" ($28; sephora.com).
How do recommend your clients take care of their skin?
Living a healthy lifestyle to start. Make sure you're always drinking plenty of water and getting enough sleep. A thorough skincare routine is helpful, too. I like to use an exfoliating scrub from Dr. Lancer for my clients, as I find that's a step many people forget or simply don't have time for. For more sensitive skin, they can use Tatcha Soothing Rice Enzyme Powder ($65; sephora.com) or Dermalogica Daily Microfoliant ($14; dermstore.com). For day, I like Murad Hydro-Dynamic Ultimate Moisturizer ($75; sephora.com), iS Clinical Reparative Moisturizer ($85; amazon.com). For night, I like Dr. Colbert Sooth Moisturizer ($175; net-a-porter.com), La Mer Moisturizer ($85; nordstrom.com). For eyes, I like Dr. Brandt Retinol Eye Cream ($55; sephora.com), Ole Henriksen Total Truth Eye Creme ($45; sephora.com).
What's the best compliment you've ever received?
We can tell how much you love women by looking at your makeup.
What are we going to see a lot of this fall in terms of beauty trends? I honestly don't always believe in trends. I am hoping to see more of gorgeous skin looks and love to see people playing more with colors. What's the best way to change up your skincare routine for fall? As the weather gets colder and drier, it's important to adjust your skincare. I often recommend using a heavier moisturizer during the winter to help nourish the skin and protect against chapped skin. You can also incorporate a moisture mask into your weekly routine. What's the one product your clients are most likely to steal from your makeup kit? Lipstick! Not that they steal it—if I don't go with them, I usually give my clients whatever lipstick I use for their look so that they can touch up throughout the day or evening. Many of my clients are also really into skincare products, and will take pictures of what I'm using any time I get something new. I give away sheet masks all the time.
To see the original article visit InStyle.
Related Links:
5 Glitter Lip Glosses That Are Safe for Work
Marc Jacobs on Hip Hop and Charges of Cultural Appropriation
Halle Berry Reveals What Malia Obama Was Like as a Production Assistant
{{unknown}}