Scrunchies Are Officially Back, And We Feel Differently About This Than We Thought We Would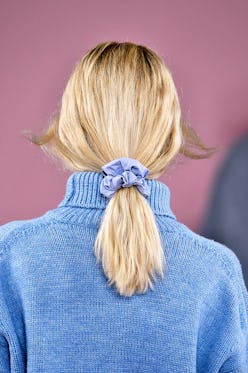 Last week, we had lunch with Cailin Russo, an up-and-coming musician whose bleach-blonde eyebrows were giving us major envy. That, however, wasn't the first thing we noticed about Cailin. Instead, it was the old-school scrunchie encircling her topknot.
Instantly, we knew the truth—scrunchies are making a comeback. See, it actually wasn't the first scrunchie we'd seen adorning the young and hip as of late—they've been making appearances on the heads of everyone from Bella Hadid to Lily-Rose Depp. Now that we've pointed it out, you'll start to spot them, too.
Well, over the weekend, our intuition about the return of the scrunchie was validated by none other than Mansur Gavriel, who showed them on his models Sunday morning at NYFW. "When I heard scrunchie, I was like, 'Ahhhhhhh!' It is my nightmare," Laurent Philippon, global artistic director for Bumble & Bumble, said backstage. "But actually no. It's done in a very cool way."
We feel similarly. Our knee-jerk reaction was, of course, "A scrunchie?!" squealed in disgust, à la Carrie Bradshaw. But now that we've seen it in action, we're changing our tune. Scrunchies are—don't kill us!—maybe cute? Like, we want them? Before you delete us from your Palm Pilot, check out the photo below and tell us you're not kinda coveting these right now.
You totally are, right? Nostalgia surfaces in the weirdest of ways, and these are giving us all the elementary-school feels. It's only a matter of time before we start layering our socks in alternating colors over our stirrup pants while we dance to Debbie Gibson in our basements again. (As if we ever stopped.)
In any case, this particular designer batch will be sold exclusively at Mansur Gavriel's NYC shop for $35 a pop, which is a decidedly non-elementary-school price. If you can't bring yourself to spend big on such a polarizing accessory, we feel you. Topshop sells similar styles for a far more palatable price—or you could just dig into your mom's makeup drawer, where she's been keeping them (in leopard-print, no less) for face-washing purposes since 1985.
The only thing that bums us out about being on board with this trend is that it vindicates Berger—inarguably Carrie's worst boyfriend—at long last. Luckily, he Post-It-noted her a good 20 years before the return of the scrunchie, allowing her to avoid the inevitable passive-aggressive gloating he would do when she one day showed up, non-ironically, wearing one. Also, he's fiction. Our newfound love for this once-scorned trend, however, is not. As it turns out, self-respecting women would be caught dead (or rather, alive) running around Manhattan, and we are—surprisingly—among them.