The Scary Truth About Protein Bars—And How To Choose A Healthy One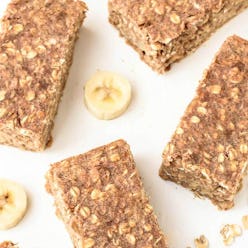 Walk into any grocery store lately, and a vast selection of protein bars beckons as a quick, efficient and nutritious way to fuel your body. But all protein bars aren't created equal; they vary in cost, purpose, flavor and most of all, ingredients. It's enough to make your head spin, and enough to make me wonder: Which ones are actually good for you? After trying several different brands and speaking to a few nutritionists, we've determined what you need to know to choose a protein bar without sabotaging your health.
1. Look for ingredients with whole foods.
Surprise, surprise: The best protein bars are made up of whole foods and straightforward ingredients such as dried fruit, egg whites, nuts, oats and coconut. If you can quickly understand what's in the bar by reading the package, it gets a high five from most nutritionists as an optimal choice.
As a big fan of Larabars, I knew these would make the cut since they prioritize three to nine simple ingredients each, i.e., my beloved cherry flavor that includes unsweetened cherries, dates and almonds. (However, if you don't like dates, that's another story, as Larabars kind of run the game on that flavor.) Rxbars, whose "No BS" claim on the packaging pretty much says it all, are also great options and popular with most of my active friends, family members and colleagues.
"I always look for bars with whole foods like nuts, fruits, seeds and veggies," says nutritionist Elissa Goodman. "For example, everyone can picture what an almond looks like, but you'd probably have a tough time distinguishing whey protein isolate from any other ambiguous powder. Ideally, the ingredients are organic, non-GMO, dairy- and gluten-free. Look for vegan protein sources and cacao instead of cacao powder or chocolate. My personal favorites are YES bars, Tosi protein bars and my own homemade recipes."
2. Steer clear of a hidden culprit: sugar.
I quickly realized that the majority of protein bars share one thing in common: extra sugar. Loads of it. This shocked me, considering protein bars are frequently touted as a health-friendly snack or post-workout bite. But high added-sugar levels and weird unnecessary ingredients are hiding everywhere—even in the bars claiming to be good for you. Considering the American Heart Association suggests only 25g of added sugar for women per day, you can see how a single protein bar can use up that allotment fast.
For context, here are a few popular brands I tried, and the sugar counts in each:
Square Organics, Chocolate Crunch, 13g
Bobo's, Peanut Butter Filled—13g
ThinkThin, Chunky Peanut Butter—21g (sugar alcohol, the tricksters)
PerfectBar, Blueberry Cashew—18g (major bummer, as this one was a previous fave)
PRO BAR, Chocolate SuperGreens—16g
Luna Protein, Chocolate Salted Caramel—15g
Clif Builder's Protein, Crunchy Peanut Butter—22g
Clif Bar, Oatmeal Raisin—20g
No bueno.
Better choices:
KIND, Madagascar Vanilla Almond—4g
GoMacro, Protein Purity—9g
Oatmega, Vanilla Almond Crisp—5g
Clif Bar, Chocolate Hazelnut Butter—10g
Quest Bar, Blueberry Muffin—2g
HealthWarrior, Honey Almond—10g
Keep in mind, if there's chocolate, cacao or fruit involved, the sugar count will be higher, and sometimes that's okay. For example, the cherry Larabar I love? 23g of sugar, but most of it comes from the dates and unsweetened cherries, which are natural sources. Also, notice how even within the same brand—Clif bars, for instance—sugar counts can vary wildly.
I know, I know, but some of them taste so good! I'm not saying to avoid your tried-and-true, but start paying attention. For me, the analysis of sugar in popular protein bar brands really opened my eyes to how damn easy it is to consume extra, unnecessary sugar even when I think I'm being healthy.
Ingredients to avoid completely, per the nutritionists I talked to:
Non-natural sugars (includes brown rice syrup, honey, high fructose corn syrup, brown sugar, cane sugar, dextrose, agave nectar, barley malt, fructose, caramel, sucralose, evaporated cane juice)
Sugar alcohols (sorbitol, xylitol, mannitol) and "fake" sugars
Ingredients that sound like chemicals
Dairy products like whey or casin
Partially hydrogenated oils
Artificial food coloring
Artificial flavors
Artificial preservatives
Carrageenan
Non-organic soy and soy protein isolate
For more wellness tips and to check out the full article head to The Everygirl.