Sandra Bullock's Acceptance Speech At The People's Choice Awards Was So Sweet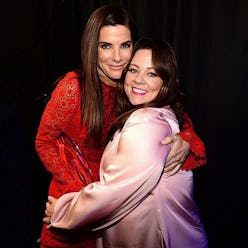 Sanda Bullock proves why she's still America's sweetheart. Plus the $156 million Netflix series you're going to love and more of today's news.
Sandy's Sweet Speech
Last night, Sandra Bullock accepted the 2016 People's Choice Award for Favorite Movie Actress by telling an adorable story about her son, Louis, inspiring her to "keep it simple." The Oscar-winner shared how her 5-year-old would "like to say thank-you to the world and thank-you to the planet" if he were to win an award like his mom. Being the sweetheart that she is, Bullock did exactly that in honor of her little boy. Cue the "awwws." [People]
Adele Feels The Burn
Preparing for her upcoming (and sold-out) world tour, Adele Live 2016, the British songstress let us know her gym struggle is very real in this hilarious Instagram post. We feel you, Adele, we feel you.
Opulence Is Key For This Netflix Series
In case you were wondering what a reported $156 million show looks like, Netflix's new series The Crown has the answer. Starring up-and-comer Claire Foy, the company's most expensive show to date centers around the life of Elizabeth II, featuring decadent period fashion aplenty (read: opulent dinner gowns, a royal wedding dress and of course, the ornate crown). While a launch date is TBD, the just-released trailer already has us hooked (and understanding the astronomical budget). [Elle]
Marc Jacobs Casts Transgender Director
Another day, another designer campaign announcement via Instagram. Following up his mega-star Fall 2015 casting, Marc Jacobs took to social media to share an image from his Spring 2016 campaign featuring transgender film director Lana Wachowski, who landed on the designer's radar after a coming-out speech in 2012. Jacobs has referred to the "language that was so tangible, intelligent, poignant and full of possibility," and we think he captured just that in Wachowski's portrait. [Fashionista]
Irina Shayk Gets Better With Age
Yesterday was a landmark birthday for Russian model Irina Shayk. The bombshell brunette posted a sexy bikini selfie today to let us know that a killer physique at 30 is A-OK.
Did Minnie Mouse Wear Chanel?
Her polka-dot skirt was inspired by Coco Chanel, and now Minnie Mouse's signature style is being celebrated with a 2-day interactive fashion and art installation at The Paper Agency in Los Angeles. The must-see Minnie Rocks the Dots exhibit will focus on the icon's global pop culture and fashion influence, from her 1928 debut to her evolution into color. Also not to miss? The custom dress Christian Siriano designed exclusively for Minnie, which will be revealed during the National Polka Dot Day preview on January 22. [WWD]
Your '90s Dreams Come True
Nasty Gal and Courtney Love want to "make all of your '90s fantasies come true" with the Love, Courtney by Nasty Gal collection due out next Thursday. Characterized as "badass lingerie you can wear all day," the first preview images feature Courtney-esque imagery (read: babydoll dresses, ripped fishnets and the like), modeled by Hailey Clauson. We're willing to bet the 18-piece collection (ranging from $48 to $188) will be a speedy sell-out. [Fashionista]