RSVP: 'Reimagining Lifestyle Online' Panel featuring Joey Maalouf, Claire Thomas & More!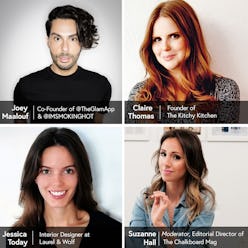 Attention, LA Zoe Reporters!
Join us for a night of conversation and cocktails this Wednesday, March 23 from 6:30pm – 8:00pm at Rachel Zoe's pop-up shop at The Grove LA. We'll be talking digital fashion and lifestyle entrepreneurship with some of the industry's most MAJOR names, moderated by Suzanne Hall, Editorial Director of The Chalkboard Mag. Our panelists will include:
Joey Maalouf, Co-Founder & Creative Director of @TheGlamApp & @IMSMOKINGHOT Claire Thomas, Founder of The Kitchy Kitchen Jessica Today, Interior Designer at Laurel & Wolf
We'll uncover what it truly means to bring lifestyle online in today's world of entrepreneurship. Plus, we'll be offering special treats to all attendees—you won't want to miss this. Space is limited so RSVP now!