Opening Ceremony Is Giving Back To Orlando Massacre Victims In A Big Way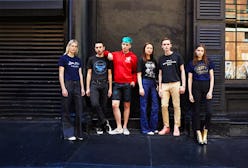 In the wake of the Orlando massacre, most human beings have been making an effort to figure out how to give back to the LGBTQ community during this difficult time. In response to the tragedy, Opening Ceremony has decided to donate 100 percent of the proceeds from its Pride Week capsule collection to the Pulse Victims Fund. The exclusive line features logo T-shirts, sweatshirts, and caps that honor five of the most iconic LGBTQ bars and clubs in New York City—Stonewall Inn, The Eagle, Monster, Meow Mix, and Cattyshack.
Even though the amount of gay bars in the Big Apple has declined over the years, the impact that they have made throughout history cannot be ignored. Furthermore, the presence of these spaces is more important now than ever for people that identify as queer.
We have to come together, protect each other, and make America safe again. The LGBTQ community is hurting and we need to unite so the healing process can begin. All of our hearts beat as one for Pulse nightclub.
Support the cause and shop the entire collection here.