One For The Boys: Futura x Beats By Dre Headphones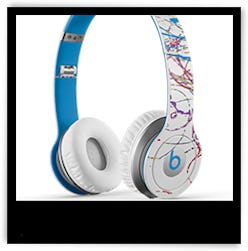 Not a day goes by that you won't find several Team Zoe members clicking away at their keyboards with a pair of next-level headphones perched atop their noggins—we take our music (and typing) seriously. Always in the market for the freshest pairs, the collab between graffiti artist Futura and Beats By Dre has the dudes at RZHQ drooling—and taking a break from their regularly scheduled typing to scoop up a pair or two!
Availability: Futura x Beats By Dre Solo HD Headphones ($200).