Make The World Better With A Sweater Day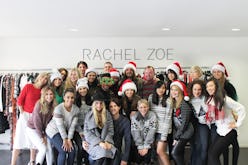 When it comes to the holidays, the only thing better than gifting your loved ones is taking the time to give back to those in need. So when Save The Children, an organization for which Rachel serves as ambassador, asked Team Zoe to wear festive sweaters to work in honor of National Sweater Day we gladly rose to the challenge.
Now it's your turn to join the philanthropic effort by donning your festive sweater today. Share your photos on Instagram and Twitter using #Elfie and of course make sure to donate $5 to Save The Children. All proceeds will provide a healthy meal, emergency backpack and more to families who have been displaced during an unexpected crisis.
After all, sweaters are great but nothing warms the heart faster than a good deed.