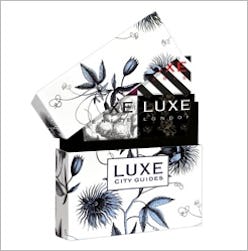 Jet-setters, rejoice! The latest in global navigation necessities has arrived and it's guaranteed to affect your exotic escapades in a majorly chic manner.
Fit for the worldliest of wanderlusts, Luxe's European Grand Tour Box comes equipped with eight travel guides touching on every corner of the continent. Repping luxurious locales like Los Angeles, London, Miami and Berlin (to name just a few), this box set comes adorned in a gorgeous, blue and white botanical print. Gift Luxe's pocket-sized package to a travel-savvy friend or score yourself one and scour overseas in style. Bon voyage!
Availability: Luxe European Grand Tour Box ($75). For more information, visit LuxeCityGuides.com.