How To Look Great In Photos If You're Not Photogenic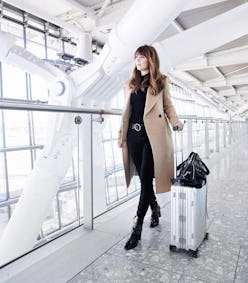 Whether you get an occasional bad angle (in which case, we don't feel that bad for you) or you can't take a proper selfie to save your life (we hear you), we're here to help. We've rounded up the best photo tricks from bloggers who make their living off getting the perfect shot. They say if you don't Instagram it, it didn't happen. So get out there and start snapping.
Get It Right (Finally)
Pick A Good Background
The ambience makes a difference in the final product. Interesting walls, skylines, bodies of water, greenery and flowers are great options.
Don't Look At The Camera
If you're feeling less than photogenic, our favorite trick is to look away from the camera. A three-quarter profile shot is flattering and always looks effortless and cool.
Edit Your Pics
We admit it, photo-editing apps are kind of cheating, but sometimes we need a little boost. Go ahead, play with filters, brighten dark shadows and blur blemishes. Caveat: Tread lightly—you want to look like yourself.
Check Your Lighting
Evening light and dark rooms can be tricky, and flashes are rarely flattering. Try to stick to daylight (but not direct sunlight)—it's like a real-time filter.
Go For Motion
Take the stress out of striking a pose. Instead, take a stroll while your personal photographer (aka your bestie) snaps away. It'll feel more natural.
Look Up
Everything looks better from above—everything. It's the easiest way to slim your jawline, lift your under-eye area and look taller.
Try Detail Shots
If you're especially in love with your outfit but you can't get your pose right, have a friend take pretty shots of your accessories. The best part? Not having to force a smile.
Take A Boomerang
When all else fails, do a cute little shimmy, hop or just let your hair blow in the wind.