4 Things You Should Know About Amazon's New Show I Love Dick
Courtesy of Amazon Studios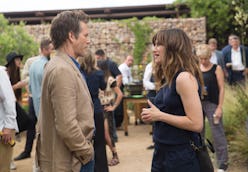 If you haven't yet noticed the marketing campaign for Amazon's newest show, you must be hard to shock. It's called I Love Dick, and all of the show's marketing materials are plastered with the title phrase. We know what you're thinking (ew), but it's not what you think. It's actually one of our favorite pieces of art to make its way onto television screens in years. We got an early look at the first season, which premieres May 12, and we want to get you as excited about it as we are. Here, four (non-spoiler) things you should know about I Love Dick.
It Was Created By Transparent's Jill Soloway
That Transparent creator Jill Soloway is the creative force behind I Love Dick says a lot about the depth of the show. In this series, Jill shows us an honest depiction of womanhood, the likes of which we rarely see (but hopefully will more often, as women continue to take the helm in the arts). Of this, she's said, "Women [previously] had to stay in these positive characters. That's because women were still objects on male story lines—the girl they were trying to get, the bitch they were trying to escape from or the mother they were trying to outgrow. But when you start to question the male gaze and you remove this feeling of being seen, the truth is just the subject."
It's Based On A 1997 Book Of The Same Name
Author Chris Kraus' book was a fiction-memoir hybrid about her obsession with a man named Dick. The book has been critically lauded as a feminist work.
You Will Fall In Love With Kevin Bacon
One of the reasons I Love Dick is so compelling is that the story line is so relatable to women—and yet not often represented (Angela Chase's obsession with Jordan Catalano on My So-Called Life comes to mind, but not much else). We all know what it's like to be crazy-obsessed with some guy we barely know. The show does a good job of making us see Dick—who is nearly 60—as the main character sees him, which is as the hottest human in the world. Seriously, you'll wish for anything but six degrees of separation from Kevin Bacon after watching this show. (Ba-dum-ch!)
The Show's Best Story May Not Even Be Its Main One
We'll let you see what we mean, but suffice it to say Jill has an unmatchable talent when it comes to humanizing the marginalized. (Note: This is just another gratuitous shot of Kevin, and it has nothing to do with the text on this slide.)