How To Be Happier, According To Your Astrological Sign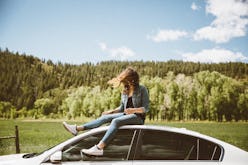 Happiness isn't one-size-fits-all: What—to borrow from Marie Kondo—sparks joy in your life might not spark joy in your BFF's. (See: the endless hours I could spend bobbing in the ocean, while the rest of my friends sit on their towels, checking their watches.)
If eating an extra serving of veggies, going for a run, or reaching for an aromatherapy blend isn't doing the trick, you might want to look up. Like, towards the stars.
Because your astrological sign could very well hold some compelling truths about what gives you an emotional boost.
According to astrologer and hypnotist Sandra Sitron of Strong Eye Astrology, everyone has a "happy spot," which is influenced by your sun sign, the cusp of your Fifth House ("that's where you find joy in your life," she explains), and your Mars sign (which provides the motivation needed for pleasure).
"Happiness really comes from your sense of purpose," Sitron explains, adding, "whether it's learning to make really good eggs or being a compassionate being."
The New York-based mystic emphasizes that you should take action with loving kindness towards yourself and not expect to be seeing a half-full glass 24/7. "We want to understand that sometimes we have to create some space for the dark side," says Sitron. "Through making space for our shadow we can understand ourselves more and really understand our purpose—and then get to that long-lasting happiness." (Really looking to dig deep? Sitron hosts a monthly workshop at Maha Rose in Brooklyn, where she leads a discussion about how to tap into each month's sign—followed by a powerful group hypnosis session to help you tap into your subconscious mind.)
To do that, she's determined both the best short- and long-term happiness picks for every sign—so that no matter what you're feeling right now, you can work toward fulfilling your sense of purpose.
Ready to look to your sign for happiness inspiration? Read the full article here as astrologer Sandra Sitron shares her short- and long-term picks across the zodiac.