Gymnastics Leotards' Best Moments In History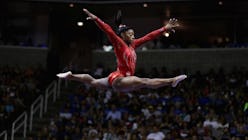 What's shinier than an Olympic gold medal? Gymnastics leotards.
When the competition begins, there's no doubt that we'll see gymnasts decked out in crystals. In fact, Team USA's leotards will be emblazoned with more than 5,000 Swarovski crystals, according to The New York Times.
It makes perfect sense. Women's gymnastics is one of the most viewed Olympic sports. It's highly publicized, and female gymnasts aren't allowed to wear any jewelry except for small stud earrings. The shiny, sparkly leotards demand attention.
Before competition, Olympians receive a package of eight leotards to compete in and 12 to practice in. The custom-fit leotards studded in high-quality crystals would cost an average of $1,200 on the open market.
In 2008, Nastia Liukin won the gold medal in the individual all-around competition at the Beijing Olympics while wearing a pink leotard studded with 184 crystals. "It's our ball gown. It's our moment to go out there on the biggest stage we'll ever be on, so it's really important not just to feel confident but to look confident," Liukin told Allure.
Liukin, who's designed her own line of leotards for GK Elite, said that before the competition, she and her teammates put on a fashion show and used the hotel hallway as a catwalk to pick out their uniforms.
Let's take a look back at some of the most iconic leotards of all time.
Sports Illustrated/Getty Images
Nadia Comaneci, 1980
In 1980, Romanian gymnast Nadia Comaneci took home the gold medal while wearing a simple white leotard with the Romanian-flag tricolor stripes down the side. She also worn a gold chain necklace, a signal that she was aiming for first place.
Sports Illustrated/Getty Images
Mary Lou Retton, 1984
Mary Lou Retton won the all-around gold medal at the 1984 Olympics (plus four more medals) while wearing a white leotard decorated with the American flag. The uniform became so iconic that in 2012, Jordyn Weiber and Aly Raisman wore leotards resembling Retton's (with more sparkles, of course).
For the biggest moments in gymnastics history, read the full article here.
By Kristen Bateman, Allure Editor