The Gang Is Back In The First Official Look At Trainspotting Sequel, T2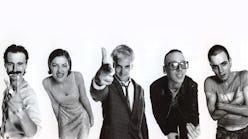 It's been over two decades since the release of Trainspotting, the bruising film about a group of Edinburgh heroin addicts that defined a generation of outsiders. Twenty-one years later and Ewan McGregor is a movie star, Danny Boyle is an Oscar-winning auteur, and the hugely anticipated sequel finally has a teaser.
T2 sees the return of the entire original cast, including Spud (Ewen Bremner), Sick Boy (Jonny Lee Miller), Begbie (Robert Carlyle), and of course, McGregor's Renton, all of whom are seen standing on a train platform, an obvious homage to the original. And, if the old gang looks a tad more weathered, don't be too surprised. Twenty years of hardcore drug use will do that to a person.
But perhaps the most obvious nod to the 1996 cult classic is what can be heard playing in the background. Iggy Pop's rollicking anthem "Lust For Life," which became synonymous with the original film, makes a triumphant return. As for the film's plot, not much is known, other than that it's loosely based on author Irvine Welsh's Trainspotting follow up Porno, which sees the gang immerse themselves in the seedy world of pornography.
T2 tumbles into theaters on February 3, 2017. To watch the first teaser check out the full article here.