Fall Fragrance Updates For Your Personality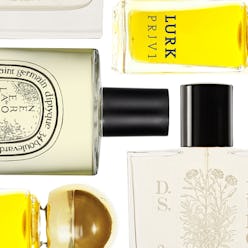 Thinking about switching up your go-to perfume for the colder months? We're doing a little overhauling ourselves, but not without consulting with perfumer and founder of Lurk—NYC-based natural perfume company—Anne Nelson about the best fragrance notes for our personalities. Here, see which perfumes you should invest in this fall all based on details of your lifestyle.
Fragrances To Fall In Love With
For The Sporty Type
"Woody, citrus blends that smell clean, fresh and sophisticated are great for the sporty girl. Specific notes to look for are bright lemon or petitgrain blends—these are energizing, mentally refreshing and balancing. These citrus-based scents also help with focus and mental acuity giving her a definite edge. Lastly, fresh scents along these lines transition beautifully from a workout to a night out."
For The Working Girl
"Perhaps a bit less of a risk taker, the professional type does well with fragrances that are never too intense or overwhelming but still smell beautiful and give her a bit of a low-key boost. Lavender and neroli are fabulous choices as they are grounding and balancing, which keep her focused, yet still unforgettable."
For The Bohemian Babe
"For those with a bohemian spirit, look for nonconformist and exotic scents with a deep, cultural vibe. Nothing fits this bill better than jasmin sambac, an intense floral that is deep, meditative and not for the traditionalist. It's a bit funky and perfectly feminine."
For The Rebel At Heart
"Nothing mundane or status quo works for this edgy personality. Tobacco notes that incorporate depth and androgynous intensity are a great choice and are always unexpected, which is a plus. These types like to keep everyone guessing."
For The Jet Setter
"For this deeply sophisticated, fashionable type, notes of rare pink and white lotus are perfect. Lotus blossoms and their extracts are extremely opulent and play into this type's exquisite taste and quest for the good life. The aroma is redolent of foreign lands and luxurious travel."