How One Fitness Mogul Learned To Love Working Out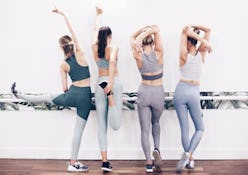 There's nothing more relatable than hearing Alexandra Bonetti Perez, founder of Bari Studio, a New York–based fitness studio that's garnered one hell of a cult following, utter the words, "I was scared of fitness, I was allergic to it." How could a successful wellness entrepreneur have hated something she's created a career out of? How did she turn disdain for fitness into a passion? And create an addictive, unique workout? (We tried it for five weeks, and it transformed more than just our bodies.) We caught up with Alexandra at her Manhattan studio to talk about the moment she realized she needed to make a life change, how she fell in love with the power of fitness and why she doesn't set restrictions on vacation.
"I've never been a fitness fanatic—I never grew up doing sports. I was scared of fitness, allergic to it. I couldn't throw or catch a ball for my life. I always stayed away from movement. I graduated college and started working 100-hour weeks—super intense, weekends, long nights and a lot of travel. A few years in, it really caught up with my body; I was exhausted, and I felt terrible. I was always tired, wasn't sleeping well and gained a ton of weight. It just got to a point where I was like, 'I need to do something about this,' and take control of my body and my life and how I felt about everything. I started going for really short runs, and I loved it. Every city I landed in, I would just go for a run. It was a really different, fun way for me to get to know where I was working that week. Those runs just changed everything. I started losing weight, sleeping better and really got addicted to the power of fitness."
To read the full article, head to Coveteur.