I'm Biracial And I Have A Lot Of Thoughts About The Royal Engagement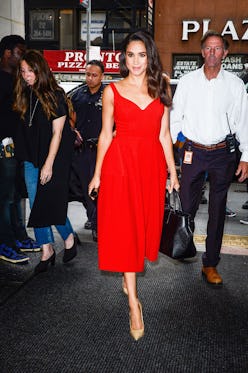 For biracial women and girls, Meghan Markle and Prince Harry's marriage will not just be another excuse to wear plastic tiaras, wave tiny British flags and drink mimosas in front of the TV at an ungodly early hour à la Royal Wedding numero uno. For biracial women and girls, their marriage means there will finally be a princess who looks like us.
With a white father and a black mother, Meghan is a member of the "what are you?" club, a club for the mixed race and ethnically ambiguous. It's a great club and I'm proud to be a member: I have insight into two different cultures and, as a character in Happy Endings once wisely said, being "half black is God's Photoshop." We look good, people!
While I'm now grateful for and proud of my background, I didn't always feel that way. Being biracial can seem like one long identity crisis. Society likes labels, so you're forced to pick a side in order to fit in, thus negating a whole half of your heritage. When standardized tests asked me to check one box for my race, I would fill in every box in protest. Once faced with the same situation, Meghan explained in a 2015 Elle essay that she chose not to fill in any box. When she told her dad, he said the next time it happened, she should draw her own box.
"Being biracial can seem like one long identity crisis."
Growing up biracial was especially tough. Between being called Oreo at recess and getting invited to the Families of Adopted Children luncheon, I thought there was something wrong with me. As a little girl, I just wanted to look like I belonged somewhere, anywhere. Specifically, I wanted to look like a pretty princess who belonged in a pretty palace. But the cruel world (Disney) taught girls like me that we couldn't be princesses like Cinderella and Harry's mom Diana. Disney was definitely not painting with all the colors of the wind back then. By the time it finally introduced its first black princess, in 2009, I was in my 20s—and she spent most of the movie as a frog.
The doll department offered no assistance in my search for an identity-confirming role model. Every Christmas, my mom bought me the annual Holiday Barbie. There were always two versions: one black and one white. My mom alternated between them every year since it took Mattel until 2015 to introduce a line of dolls with a wider range of skin tones.
Then there was the American Girl lineup. While not exactly princesses, they were royalty among dolls. I got Addy, a runaway slave. Now, don't get me wrong, I loved Addy. She had the most compelling story: She was fierce and brave and kind and, you know, escaped slavery. But she was depressing! The only things I really cared about at the time were the accessories and the clothes, and Addy had the worst accessories and clothes (because, you know, runaway slave). The Felicity doll had a mahogany canopy bed. Addy had a simple wooden "bed of her own for the very first time" from a boarding house. Samantha had a lemonade set. Addy had a drinking gourd. I mean, that's powerful and stuff, but I was 10.
But after years of lack of representation everywhere from toys to television shows, biracial people are getting their time in the sun (a place where we get great tans but also need to wear sufficient sunscreen). We have diverse dolls and Tracee Ellis Ross and Barack Obama and, next year, a princess.
I finally get to see someone like me get the fairy-tale ending.