The Best Summer Movies To Watch This Week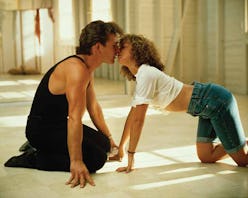 Summer is one of the best seasons, isn't it? Everything from the food to the clothing is as carefree as a breezy sundress or corn on the cob. You can stay outside from early morning to late at night, and you're always in a good mood, whether you're at the beach or staring out the office window waiting for 5 p.m. happy hour on a rooftop. Why not go for that summery feeling during your next movie night? Next time you need a break from pool days and barbecues (though, not sure that happens too often), opt for one of these movies that are sure to get you in the summer mood:
Dirty Dancing
Vestron Pictures
Two star-crossed lovers meet at family summer camp — sounds like the dream summer, doesn't it (and maybe the reason you agreed to go to summer camp for years, in hopes of finding your Johnny)!? Grab some popcorn and a dance partner to attempt the epic lift scene, and it'll finally feel like summer.
Watch if: You're seriously in the mood to dance or are ready to have the time of your life.
Father Of The Bride, Part II
Normally, I'm not a huge pusher for sequels, unless it's the magic that is Father of the Bride 2, one of the few sequels in the history of film that might actually be as good as the first. Annie Banks — the bride/Steve Martin's daughter that you fell in love with in Part 1 — is now pregnant with her first child when *shock* her mother gets pregnant, too. And they're both due in — you guessed it — summer! This movie has it all: laughs cries, pregnancy hot flashes in the California heat, Diane Keaton, serious #housegoals, and Franck — what more does a flawless summer rom-com need?
Watch if: You're having a family movie night at your parent's house (and try not to think about how weird it would be if you and your mom were pregnant at the same time).
Sisterhood Of The Traveling Pants
Warner Bros. Pictures
Caution, this movie will make you feel ALL the feels. Bridget, Carmen, Lena, and Tibby are just your average group of teenage BFFs who have to spend time apart for the summer. In an effort to stay close, they find a magical pair of pants that happens to fit all of them, as every BFF group dreams of. Through the summer, they share the pants as they share their lives and all the heartbreak that comes with it. Bonus: it'll give you major travel inspo, andyou'll get nostalgic watching Alexis Bledel mid-Gilmore Girls innocence and Blake Lively pre-Serena VDW.
Watch if: You're having a girls' night in (because some wine and a female-friendship-focused dram-com with your besties sounds much better than a crowded bar, anyway).
Letters To Juliet
Going to Italy this summer? Or sitting on your couch with Domino's pizza wishing you were? This amazing movie that I could watch over and over again is your perfect summer flick. While on a vacation in Verona with her then-fiance, Sophie visits a wall where heartbroken women all over the world write letters to Shakespeare's famous Juliet. When she finds a letter from over 50 years ago and responds to it, she embarks on a journey to help reunite true love, and maybe find some true love of her own.
Watch if: You're with your significant other and ready to fall in love over a bowl of spaghetti.
Lilo & Stitch
Buena Vista Pictures
Yes, this animated classic is making it onto the best summer movies list, because it has heart, it has humor, it has hula dancing, it has Elvis, and guess what–it has summer. And it's just an all around great movie that teaches you what true friendship truly is–and to don't judge a book by it's cover. Basically, all the best morals you could possibly have combined in one great flick.
Watch if: You're have a movie night with your siblings.
Now and Then
New Line Cinema
Beyond just being the ultimate 90's #goals (hello, Christina Ricci, Demi Moore, and my other favorite 90's icons), the soundtrack alone can be used as your summer playlist. Follow along with flashbacks of four women from an important childhood summer and learn how that summer affected them as adults (sounds like that one time at the pool when your bathing suit fell down in front of the rest of the kids and you're still traumatized today? Same.) It's kind of like the 90's version of Sisterhood of the Traveling Pants but with more flashbacks and fewer hot Greek men.
Watch if: You're with your best friend and want to "recapture the way you felt in the summer of 1970," (or whichever summer where "things started to change" for you.)
The Parent Trap (1998)
Buena Vista Pictures
This remake of the classic storyline follows along with Annie and Hallie — twins who were separated at birth — as they reunite at summer camp, fight, fence, become BFFs, and then come up with a plan to get their parents back together. Grab some peanut butter-dipped Oreos and tissues for your happy tears. You're going to want both!
Watch if: You have a twin sister that you didn't know about until recently, or you're nostalgic for some LiLo in all of her pre-scandal innocence.
Grease
Paramount Pictures
Does this classic musical need any introduction? Sandy, Danny, football bleachers, school dances, drive-in movies, "Summer Nights"? This is as "classic summer flick" as classic summer flicks can get. You'll sing along, you'll dance along, you'll want a milkshake from Frosty's, and you'll fall for Danny Zuko every time.
Watch if: You want to revisit the excitement of school getting out for summer vacation.
Girls Trip
Universal Pictures
Best friends Ryan, Sasha, Lisa, and Dina travel to New Orleans for a lot of laugh-out-loud adventures, and of course (like any good female-loaded comedy), they learn a lot about each other and rekindle their friendship along the way. It's all about reliving the glory days, and knowing that we're never too old to have a little bit of crazy summer fun with our friends.
Watch if: You're getting ready for a summer vacay with your girls and want to rediscover your wild side.
Forgetting Sarah Marshall
Peter, a struggling musician, gets dumped by his TV-actress girlfriend and heads to Hawaii to try to get over her. Low and behold, his ex-girlfriend is at the same resort with her new famous rockstar beau (and you thought it was bad when you drunk dialed your ex). If your summer vibe is more surfing, leis, and Hawaii-inspired, look no further than this hilarious film.
Watch if: You're using your summer as a way to totally cleanse from a bad breakup.
The Sandlot
Scottie Smalls moves to the neighborhood and makes friends with a group of boys who play baseball at the sandlot. But it's not all fun and games (pun intended) — Smalls borrows a special ball from his stepdad that gets hit over the fence, and the boys work to get it back. A cinematic classic about childhood, baseball, and, of course, summer, this film is going to make you want to call up your neighborhood gang for some shenanigans.
Watch if: You're with your childhood friends (siblings count!).
Mamma Mia!
Universal Pictures
Love musicals or hate them, this epic film adaptation of the Abba-inspired musical is the ultimate summer film. The beachy/effortless beauty and fashion inspo (Amanda Seyfried does the "no makeup" makeup look better than anyone), close female friendships, the kind of songs you can't help but sing along to, mother/daughter sob-worthy moments, and young, carefree love — all with the backdrop of a spectacular Greek island. Top it off with power stardom like Meryl Streep and Colin Firth, and what more could you possibly want!? Make sure you've got a free afternoon though– you're going to want to skip around with all your best friends after the "Dancing Queen" scene.
Watch if: You want to be immediately transported into the most summery, happy mood. Yes, I love it that much. It's good anytime, anywhere.
More From The Everygirl:
6 Books To Read For A Better Career, According To A Communications Expert
30+ Plus Size Picks From The Nordstrom Sale
I Cut 5 Unnecessary Spending Habits For 30 Days And This Is What Happened