At Large: The Spring 2016 Beauty Trend That Everyone Can Emulate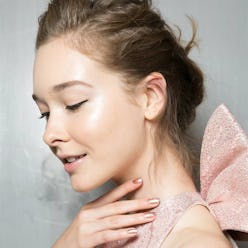 At Large is a special-edition series in which Rachel Zoe tasked 3 YouTube stars to attend New York Fashion Week and report back with a story for The Zoe Report. Find out more about the series here.
Teni Panosian here, reporting from the Big Apple. Rachel Zoe sent me to NYFW to scope out the best hair and makeup trends on the Spring 2016 runways. I attended a multitude of shows and presentations including Rachel Zoe, Monique Lhuillier and Lela Rose and instantly found one overwhelming theme: dewy, gloriously fresh skin! Start with a very natural base, add a healthy flush of color on the cheeks and finish with a swipe of highlighter atop the cheekbones for a radiant and head-turning result.
Photo: @ctilburymakeup
While the lit-from-within look was consistent across many shows, each designer added their own unique twist. The iconic makeup artist Charlotte Tilbury created the look for Rachel Zoe's presentation and it was my favorite of the week. After applying a luminous base, she added a warm, smoky color to the lids, skipped liner altogether and finished with a matte peach lip. Recreating this fresh-faced look is a cinch and will definitely be on heavy rotation in my beauty lineup come spring.
Photo: @maccosmetics
In contrast to this soft, romantic vibe, Monique Lhuillier opted for a more striking beauty statement. Starting again with the fresh, minimal base, the models were given a sharp dash of electric blue or green liner across their top lash line, which beautifully complemented the bold colors and sharp angles of the collection.
Photo: @muradskincare
Finally at Lela Rose, the dewy skin was paired with strong, sultry eyeliner. Makeup artists created a dramatic black cat eye to provide a bold counterpoint to the whimsical and feminine clothing. Next time I don a girly ensemble, I'll definitely try balancing the look with dark eyeliner.
All in all, the best and most wearable trend was the luminous dewy skin seen virtually everywhere—but I also recommend adding a dash of personality with liner or lip color to keep it fresh and fun.