At Large: A Firsthand Look At Fashion Week's Street Style Scene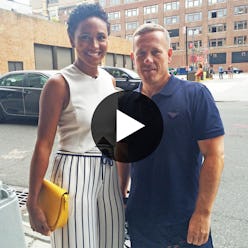 When it comes to fashion journalism, there's no greater source of news and inspiration than the bustling scene of NYFW. To that end, our EIC Rachel Zoe sent a group of fashionable YouTube stars to experience the spectacle firsthand with the ultimate task in mind—gathering research to write a story for The Zoe Report's At Large series.
First up? Shameless Maya. Her assignment? Scope out the street style scene (and attend some shows, of course) to find the circuit's chicest stars and inspire her own wardrobe. Along the way, she interviews shutterbug greats including Scott Schuman of The Sartorialist to find out what really makes you stand out amongst a sea of fashion folk. Here, watch Shameless Maya embark on her journey, and stay tuned for her story to get the inside scoop.
Here, watch how Shameless Maya was inspired by her fashion week experience to create the perfect street style ensemble.
Make sure you're subscribed to The Zoe Report and Shameless Maya's channels on YouTube for even more chic fashion and beauty videos.