13 Art Exhibits You Don't Want To Miss This Summer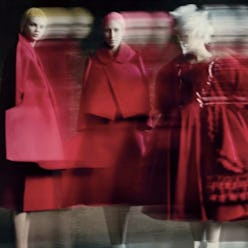 Museum-hopping shouldn't be reserved for rainy days. If you need proof of that, just take a look at the lineup of art exhibits hitting museums across the country this summer.
The season already kicked off in New York City with the Whitney Museum's long-awaited Biennial and the unveiling of this year's Met Gala honoree, Comme des Garçons founder Rei Kawakubo. But you'll find new paintings, sculptures and installations to wander through at dozens of other galleries, from Pérez Art Museum Miami's new exploration of the Cuban-American identity to the revival of last summer's Museum of Ice Cream, now on the West Coast. With new collections cropping up in locations ranging from Washington, D.C. to Boston and Los Angeles, it's hard to keep track—so we created a guide to the most anticipated exhibits for you (and yes, they're all highly Instagrammable).
To check out the full article, head to Nylon.
Whitney Biennial 2017 | Whitney Museum of American Art, New York
It's been a long time coming for this summer's Whitney Biennial. The Biennial is the first to be held at the museum's two-year-old downtown location, and the move delayed the exhibition by a year. But after touring 40 cities over the first half of 2016, curators Christopher Y. Lew and Mia Locks pulled together works from 63 American artists, including a virtual reality setup, abstract paintings, outdoor sculptures, and a 3-D film.
Expect political and social justice undertones—and, with it, inevitable controversy. But you'll also be met with pieces that make you stop and think, before snapping that Instagram photo. The collection features everything from a grid of nearly 3,000 bologna slices (William Pope.L's "Claim [Whitney Version]," 2017) to a collection of frilly banners bearing symbols of prejudice and racism (Cauleen Smith's "In the Wake," 2017).
Through June 11 at the Whitney Museum of American Art, 99 Gansevoort St., New York. Admission: $25 adults, $18 students.
Leo Villareal | Pace Gallery, New York
If you couldn't brave the lines for Yayoi Kusama's LED-lit installations in Washington, D.C., last season—or even if you could—you might want to try Pace Gallery. The gallery's Chelsea space is hosting the first solo exhibition by Leo Villareal, a Manhattan-based light artist who creates immersive art experiences using LED lights and projections. You might recognize his work from the London light-based project "Current," which was commissioned by the Illuminated River Foundation to enliven the bridges of the River Thames. Villareal notes in a press release that, for him, "art has always served as a portal—something that takes the viewer to another place," and this exhibit does just that.
Through June 17 at Pace Gallery, 537 W. 24th St., New York. Free.
Museum of Ice Cream | Los Angeles
This is not a drill. After a successful run in Manhattan last July, the Museum of Ice Cream is hitting the West Coast this summer, and it's bigger than ever—four times bigger, in fact. The updated pop-up features 10 reimagined installations, from a room of life-size gummy bears to a mint "grow house" dedicated to California and the museum's signature sprinkle pool. (Yep, you can really swim in it.) Tickets include two ice cream treats from cult L.A. creameries like McConnell's and CREAM, so come hungry.
The new pop-up in the trendy Downtown L.A. arts district is sold-out for now, but an extension is TBD. Just be ready to hustle once the next batch of tickets goes live—the New York pop-up famously sold out in just five days, garnering a waitlist of more than 200,000.
June 2 through July 10, with more dates to come, at 2018 E. Seventh Place, Los Angeles. Admission: $29.