The 10 Page-Turners You Should Be Reading This Fall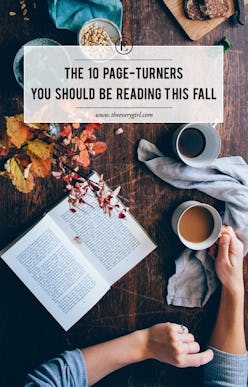 Is there anything better than a crisp fall day, a cozy blanket, and a good book? With summer fading into the distance behind us and as we all retreat indoors for the season, there's no better time to crack open a great novel and get reading.
Here are 10 great books you need to put on your reading list this fall.
Check out the original article on The Everygirl.
1. You Can't Touch My Hair – and Other Things I Still Have To Explain
Comedian Phoebe Robinson is perhaps best known for her work on 2 Dope Queens, the podcast she co-hosts with The Daily Show's Jessica Williams. In her hilarious collection of short essays, Robinson addresses race and gender as they intermingle with comedy and pop-culture. Warning: Reading this on the subway will result in other passengers sending you weird looks as you continuously laugh out loud – I would know.
Click here to buy "You Can't Touch My Hair – and Other Things I Still Have To Explain" on Amazon
2. The Girl with the Lower Back Tattoo
This book is easy to recommend –– if you like Amy Schumer's brand of raunchy, shock-value comedy, you'll enjoy this book. If you don't, you won't. The essays within the book take you through parts of Amy Schumer's life, some parts of which are hilarious, some sad, though all of them make up who Schumer became to day: A woman who radically loves herself and wants you to love yourself, too.
Click here to buy "The Girl with the Lower Back Tattoo" on Amazon
3. The House of the Spirits
Hey, it's Jane the Virgin's favorite book so why shouldn't it be yours, too? In a story that is part history, part fantasy, The House of the Spirits follows three generations of an upper-class Chilean family struggling to live and love.
Click here to buy "The House of the Spirits" on Amazon
4. The Wonder
An English nurse, trained by Florence Nightingale, is sent to a tiny Irish village to care for an 11-year-old girl who, miraculously, has survived for months without food. Using lovely prose, the book explores questions of faith, miracles, and odd mysteries.
Click here to buy "The Wonder" on Amazon
5. Shrill: Notes From a Loud Woman
If you've ever felt you needed to seem cooler, more relaxed, or less type-A to be seen as valuable (particularly to men) then this book is for you. In hilarious essays, the book examines the way our culture silences women – and ways we can fight back against it.
Click here to buy "Shrill: Notes From a Loud Woman" on Amazon
6. When Breath Becomes Air
He was about to become a neurosurgeon after a decade of studying when he was suddenly diagnosed with lung cancer at the age of 36. When Breath Becomes Air is written by Paul Kalanithi, who died while working on this book, and his words address the relationships between doctor and patient, living and surviving, and what life really means when faced with mortality.
Click here to buy "When Breath Becomes Air" on Amazon
7. Frankenstein
What better book to read during Halloween month? If you haven't read the book that inspired the spooky green monster we see on TV every October, you ought to. There's more to the story that you'll never see in the horror novel's many movie adaptations.
Click here to buy "Frankenstein" on Amazon
8. Wuthering Heights
Published way back in 1847, Wuthering Heights may have been way ahead of its time: Like in many modern-day novels (Gone Girl and Fates and Furies come to mind), the characters are self-absorbed and complicated, bordering on unlikeable. The story is complex, violent, dark, and captivating in a masochistic sort of way. Crack it open on a rainy fall day.
Click here to buy "Wuthering Heights" on Amazon
9. The Woman in Cabin 10
Imagine being a guest on a luxury cruise for the rich and famous, only to witness a woman being thrown overboard one night. The next morning, however, all of the guests are accounted for – and the ship continues on as normal. This tightly wound thriller will keep your heart racing from start to finish.
Click here to buy "The Woman in Cabin 10" on Amazon
10. The Female of the Species
"This is how I kill someone. And I don't feel bad about it." I picked up this book thinking it would be Dexter-esque with a feminine twist, edgy and feminist, and cool. What I got instead was a brutal and violent but ultimately redeeming story about the subtle dangers of rape culture and the pain of trying to dismantle it. Not for the faint of heart, but worth a read nonetheless.