The 10 Items In Whole Foods' Trend Forecast Paint 2018 Super Healthy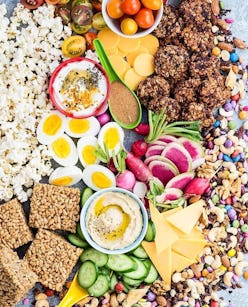 Based on the just-released, carefully curated list of trends Whole Foods' global buyers, experts, and industry leaders predict will dominate 2018, you better prepare yourself for a year that'll seriously up your well-being quotient.
Between adaptogenic mushrooms showing up in everything from bottled drinks to coffee and broth, and super powders that can help sneak extra nutrients into anything you eat, the grocer thinks you should clear your pantry space for these 10 items that are about to get seriously popular.
1. Floral flavors
While chefs have taken advantage of pretty edible flowers for years, flora is now making its way into regular folks' homes, according to a press release: Whether that means adding a bloom into your dish or infusing its flavors into drinks, flowers are getting an herb makeover, appearing in lavender lattes, pink hibiscus teas, and rose-flavored everything.
2. Super powdersWho needs superpowers when you have super powders? Whole Foods predicts you'll be able to grab powders like matcha, turmeric, spirulina, and maca root in everything from smoothies and nutrition bars to soups and baked goods. 3. Functional mushroomsAdaptogenic mushrooms are totally hitting the mainstream, with varieties like reishi, chaga, cordyceps, and lion's mane getting street cred as wellness ingredients in dietary supplements, as well as in bottled drinks, teas, and broths. Beyond its edible functions, the benefit-packed fungus is showing up in soaps and hair-care products, too. 4. Feast from the Middle EastMiddle Eastern cuisine is about to transcend hummus and pita. Thanks to the rise of Persian, Israeli, Moroccan, Syrian, and Lebanese influences, healthy eaters are taking a deep dive into other stalwarts like shakshuka and grilled halloumi, as well as spices like harissa, cardamom, and za'atar. 5. Transparency 2.0Expect to see even more retailers jump on the transparency bandwagon in 2018, especially when it comes to product labeling. Whole Foods plans to, for example, source tuna from more sustainable one-by-one catch methods, provide GMO transparency on all store items, and label dishes from its food bars with calorie information. 6. High-tech goes plant-forwardGet excited, vegetarians and vegans: The tech industry is using its intel to make plant-based food even better in 2018. By manipulating ingredients and proteins, using science will not only put things like "not-tuna" (made from tomatoes) on shelves, but also new nut milks and yogurts made from peas and pecans, as well as even more decadent vegan desserts. 7. Puffed and popped snacksThanks to advances in technology, there are new ways to process and combine ingredients that will make snacking even more delicious. Whether it's popped cassava chips or puffed pasta bow ties—and healthier options in general, like Brussels sprout chips—finding a better-for-you snack on store shelves is getting easier. 8. Tacos come out of their shellIt seems like the taco trend is never going to end (#TacoTuesday for life!), so it's extra exciting that the dish is getting a healthy makeover. Not only are tacos ditching their shells for things like seaweed wrappers, but there are also more grain-free, Paleo options available. 9. Root-to-stemHopefully, the food waste problem, will shrink in 2018, with parts of plants you wouldn't normally think about eating making their way into more dishes (think pickled watermelon rinds or broccoli-stem slaw). 10. Say cheers to the other bubblySure, LaCroix will always be a fan favorite—but 2018 will see flavored sparkling beverages made with maple and birch, fizzy cold brew, and healthy mocktails.To read the original story, visit Well + Good. Related: The Delish Okra And Sweet Potato Salad Recipe Rocco Dispirito Developed On A Dare This Easy Sweet Potato Side Dish Is Thanksgiving Recipe Gold The One Pantry Staple You Need This Thanksgiving