What It's Like To Go To Cannes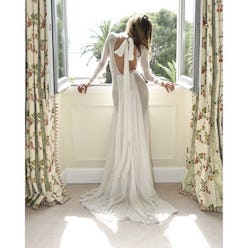 Sure, Cannes Film Festival is alluring for its star-studded movie premieres, glamorous locale and black-tie dress code, but does the experience actually live up to the hype? We tapped Erica Pelosini, one of the festival's fabulous attendees, to show us the highlights from her recent trip to the Cote D'Azur—yes, she also went to Dior's Resort show—so you can make up your own mind. You know, for the next time you get an invite.
"Arriving in Cannes to the beautiful view of the sparkling Mediterranean ocean."
All Photos: @ericapelosini
"Visiting Pierre Cardin's Palais Bulles, the site of the Dior Resort show."
"One of the many divine looks gracing the open-air runway at Dior."
"Back to the hotel to unpack and prepare the week's outfits!"
"Dining in good company at the Dior 'Art Meets Fashion' dinner."
"Breakfast with a view before heading out for another fun-filled day."
"Leaving the hotel to visit La Colombe D'Or, a historic hotel and restaurant made famous when scores of artists descended on the Cote D'Azur in the 1940s and made it their favorite meeting place. It is home to some of the most incredible Picassos!"
"Back to the Hotel du Cap to soak up some sun and grab lunch."
"Walking the incredibly daunting—but fabulous—red carpet in Salvatore Ferragamo."
"A waterfront stroll is the best way to enjoy the evening light in Cannes."
"Heading out to Jean Pigozzi's annual pool party and barbecue in a printed red maxi dress."
"The glamorous AmFAR gala is my last stop before catching a flight back to LA tomorrow!"