Victoria's Secret Fashion Show 2015: Meet This Year's Musical Guests
Dimitrios Kambouris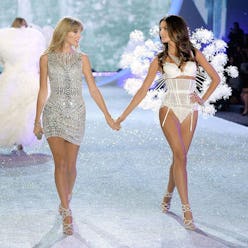 Selena Gomez, the Weeknd and Rihanna announced just this morning that they will be sharing the stage at Victoria's Secret's fashion show, airing December 8 on CBS. The annual event has lately drawn as many headlines for its musical performers as for its NSFW fashion so we're not surprised to see so many A-listers in the lineup. Still, this is a major moment: All three musicians are at the height of their fame and stand a pretty good chance of overshadowing the VS Angels. Above, a look back at the Victoria's Secret fashion show's past performers, to get you in the spirit. How do you think Selena, the Weeknd and Rihanna will top them this year? Share your thoughts in the comments!
Last year, Ariana Grande made her debut on the VS stage alongside fellow rookie Ed Sheeran and veteran Taylor Swift. The pint-size songstress stood out from a sea of glamazons in jet black crystals and her trademark half-up hairdo.
Taylor Swift's first performance at the Victoria's Secret fashion show in 2013 was a tour-de-force and a sneak peek of the way she now brings the whole squad on-stage at concerts. Swift strutted down the catwalk in ice blue crystals (above) as well as a Union Jack-printed cape and romper.
In 2010, Katy Perry laid claim to the stage at the VS fashion show, singing and dancing atop a gigantic glittery pink puppy. Her bold and kitschy costumes strongly resemble some of the Moschino looks she's been wearing lately as designer Jeremy Scott's muse.
The Spice Girls made a major comeback on the Victoria's Secret runway in 2007, ten years after their first single "Wannabe" broke the radio. Even Victoria Beckham--usually keen on keeping her Spice Girl past firmly in the '90s--was on hand to sing, dance and pout her way through their greatest hits.
It's hard to believe 9 years have passed since Justin Timberlake strutted the stage singing "Sexy Back" and chasing the Victoria's Secret Angels' sexy backs, but believe it: Nearly a decade has passed since this former *NSYNC frontman raised the bar for VS fashion show musical acts. And we are thankful for it.