Win A Glam Trip To LA + A Maj Home Upgrade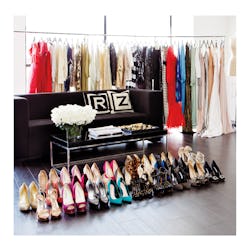 In case you haven't heard, our chic boss Rachel Zoe is releasing her second book Living In Style: Advice and Inspiration for Everyday Glamour on March 25th. It's filled with never-before-seen personal photos, images of her fashion and beauty icons and contributions from her inspiring friends and mentors on home décor, entertaining and travel.
To celebrate, we've teamed up with StyleList and Jonathan Adler to give away a trip to sunny Los Angeles, plus a major home upgrade. One grand-prize winner will receive:
Roundtrip airfare for two to LA provided by Virgin America
A two nights' stay at the Beverly Hills Hotel
$1000 gift card to Jonathan Adler, to upgrade your home upon your return
A copy of Living In Style, signed by Rachel Zoe
Additionally, 10 first prize winners will receive a signed copy of Living In Style as an endless source of inspiration.
So what are you waiting for? A glamorous trip to LA could be yours—enter now for your chance to live in style.