Where To Eat During Paris Fashion Week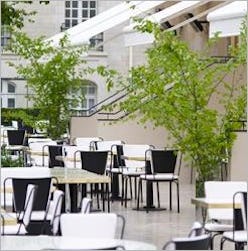 Everyone knows that French food is dangerously good (the French bring baguettes and butter to the next level) and when you're in Paris for the fun-but-tiring runway shows, a fabulous dinner can do wonders for one's stamina. In honor of the last days of Paris Fashion Week, here are my favorite spots for coffee, drinks and super-delicious French food. —Natacha Steven
Claus From the homemade jams to the killer pastries, everything at Claus is super-delicous. We won't judge you if you kill the whole bread basket.
Le Mary Celeste This casual dive bar has everything you want at the end of a long day: wine, oysters, cocktails and tapas. It's the same owner as Candelaria—another Paris favorite.
Photo: Le Mary Celeste via timeout.fr.
Rose Bakery This spot has a few locations and a mean brunch as well. This is also only of the only places in Paris with soymilk—a rare luxury.
L'Avenue This is the ultimate "see and be seen" lunch destination. If the sun graces you with its presence, try to snag an outside table.
Caviar Kaspia Fresh, elegant and a true gem for caviar lovers. Definitely a unique experience and a great meeting place for a fancy bite!
Photo: Caviar Kaspia via kaspia.fr.
Frenchie Bar a Vins If you don't mind a long wait then hit up this local spot for great wine and sharable plates. Really hungry? Two words: reuben sandwich.
Le Stresa This is another well-kept Parisian secret with authentic Italian food and the occasional celebrity sighting.
Monsieur Bleu This foodie spot is located in the Palais de Tokyo and has an incredible view of the city. Make a reservation and try to get a table on the terrace!
Photo: Monsieur Bleu via parisrivedroiterivegauche.com.
Le Montana If you are ready for a wild night out in Paris head here for an exclusive, rowdy and all-night rager.
Bar at the Plaza Athenée Hotel For a tame and classy cocktail night, hit up the bar at the luxurious Plaza Athenée hotel. They've got some serious cocktails.
Mathis This is Paris exclusivity and glamour at its finest. Once you're through the door, it's a guaranteed night of enjoyment.