Rocky Barnes Shows Us How To Visit Brazil Like A Fashion Blogger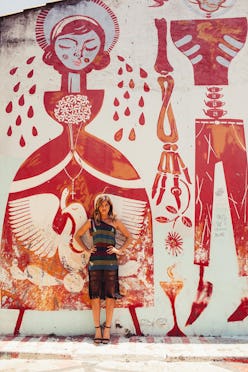 When planning vacations Brazil frequently tops our wishlist. Since some of us have to sit at a desk most days (sigh), we tapped fashion blogger Rocky Barnes to do some field research for us. Here, read her tips for traveling, what to pack and where to visit then check out her full takeover on Instagram.
Why are you heading to Brazil?
"I'm down in Rio shooting for one of my favorite new brands, Iorane. Their pieces are so versatile and flattering, this Sofia Dress is one of my favorites!"
What are your tips when traveling?
"My rule when I travel is to always try everything! I can't wait to try some of the local Brazilian cuisine. I also always try and arrive during the day so I can get my bearings asap. And most importantly, I always drink a TON of water!"
Where are you most excited to visit?
"I'm spending my first two days in Sao Paulo, then I'm heading up to Rio which I can't wait to see. The colors, the people the architecture, the food! I am so excited to soak it all in."
What are you packing?
"I'm excited to bring out my summer clothes again now that LA has cooled down...I packed a couple of my favorite pieces from Jaline resorts and Mara Hoffman, and of course lots of bikinis!"