The Hot New Vacation Spot For Pop Stars, A-Listers And Everyone In Between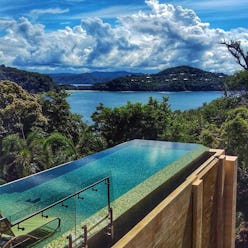 Homepage photo: @villamanzucr
When planning a trip to Costa Rica, most people gravitate toward the town of Tamarindo or the southern part of the country, but there's a destination in the north that should not be ignored: Peninsula Papagayo. This beautifully manicured area is a can't-miss (the Kardashians are fans) in the picturesque country known for its rain forests, monkeys, laid-back attitude, awesome surf and general pura vida (translation: pure life). Only 40 minutes from the Liberia airport, Peninsula Papagayo is easy to reach from many American cities. Once you arrive, you'll discover a true paradise thanks to spectacularly clear blue seas, little rain, beautiful landscapes and an endless amount of exotic wildlife. The average temperature tops 85 degrees no matter what the month, and the water is often as warm, making this spot a must on your travel bucket list. Here, where to stay, what to eat and drink, and what to do while you're there.
Where To Stay
Why not stay where Zac Efron, the Kardashian clan, Katy Perry and Justin Bieber do? With eight suites and more than 30,000 square feet, Villa Manzu (manzu means "friends" in the indigenous language of Costa Rica) is an estate set on five acres with stunning ocean views almost everywhere you turn. Gather a group of friends to split the cost and indulge in the stunning bedrooms, infinity pool, full staff, spa, screening room and more. When selecting a room it may be tough to choose between the one with floor-to-ceiling ocean views (from the shower!) or the one with its own pool and hot tub. Then there's the casita, which is essentially its own apartment. Ahhh, choices.
Make sure to witness the jaw-dropping sunset from the aptly named Sunset Point, which juts out over the Pacific and offers unforgettable, sweeping views of the sun dipping into the water. The staff is impeccable, and the cooking team is world class. Other sleeping options on the peninsula include a Four Seasons and an Andaz, but if there is a way to get Villa Manzu in your life, do it.
What To Eat and Drink
If you stay at Villa Manzu, meals are taken care of by the team of chefs, including a full breakfast buffet (think omelettes, smoothies, fresh-baked goods and daily specials), delicious lunches and decadent—yet healthy—dinners, from fresh red snapper to slow-grilled ribeye. Make sure to try super-hydrating fresh coconut water straight from the shell, and when you're ready for something stronger, indulge in local Costa Rican Imperial beers or the on-staff bartender's crave-worthy spicy margaritas.
If you want to venture off-property, head to the Four Seasons for Sol y Sombra, where traditional South American-style cuisine and panoramic oceans views are the name of the game, and an outdoor kitchen keeps things entertaining. Just a few miles away from the villa and hotel is Ginger, an Asian-influenced tapas spot known for great food and vegetarian options. The treehouse-like atmosphere is not to be missed.
What To Do
Surfing, zip-lining, hiking, jet skiing, snorkeling: The options for what to do in Costa Rica are nearly endless. One thing we recommend you don't miss is the Diamante Eco-Adventure Park in Guanacaste, where you can experience a multiple zip-line course that includes a mile-long Superman line, meaning you go head first—seriously. After soaring through the sky, take a tour of the park's animal sanctuary, home to the largest variety of species in one location, including sloths, monkeys, pumas, jaguars and toucans. Back on the peninsula, hang on the pristine beaches, have a little fun on a jet ski or paddleboard or surf one of the world-class breaks, including Witch's Rock and Ollie's Point. If you're a newcomer, ask a local for a mellow beginner's wave—you can find it all in Costa Rica.