Kendall Jenner And Bella Hadid Are Living Out Your Summer Vacation Goals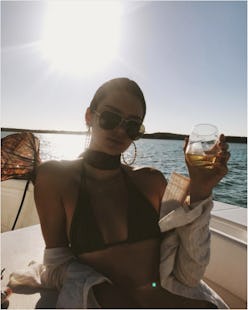 As we sit at our desks on a typical hump day, Kendall Jenner and Bella Hadid are taking time off with a summer vacation sure to induce some midweek envy. The supermodels, who constantly prove to be #BFFgoals, were spotted on the picturesque Greek island of Mykonos, soaking up the sun on a speedboat and popping bubbly by the sea.
Greece seems to be only the latest stop in their European getaway. On Saturday, the two met up with Kylie Jenner at the Wireless Festival in London after making appearances at Couture Week in Paris.
In fact, the jet-setters are clearly having so much fun they couldn't be bothered to share their own selfies on social media, save for evidence of their taking part in the Pride in London Parade.
Stay tuned for their next destination, which we can only imagine will be equally enviable.