6 Glamping Destinations Fashion Girls Love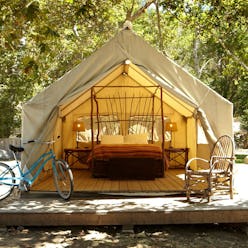 After spending so much time with our faces in front of screens—at work and at home—there is no better way to go offline than by spending some quality time immersed in nature. Luckily, you don't have to know how to pitch a tent or scare off mosquitoes all night to experience the great outdoors. "Glamping" destinations allow you to experience resort accommodations while simultaneously getting in touch with nature. Hey, it sounds contradictory, but we like to think it's the fashion-girl way to experience Mother Nature. Ahead, our picks for the most fabulous camping locations that will put you in the country's most beautiful natural landscapes while also ensuring you get some much needed R&R.
El Capitan Canyon, California
There's no question that the California coast provides one of the most breathtaking natural backdrops. Is there anything more desirable than waking up to hear the sound of crashing waves? Spend your day exploring the natural lands or get pampered at the spa.
El Cosmico, Texas
Located in the mystical town of Marfa, this retreat is perfect for those looking to immerse themselves in culture. The campground offers classes in cooking, art and songwriting. With a wide variety of sleeping accommodations, from vintage trailers to teepees, you'll definitely have a one-of-a-kind getaway.
Falling Waters Resort, North Carolina
If peace and quiet is beckoning, spend the night in a yurt at Falling Waters. The yurt's skylight is optimal for star-gazing, and you can enjoy a little alone time on the private deck near the lake.
Firelight Camps, New York
The town of Ithaca is a hidden gem in the Finger Lakes region of upstate New York. Nature-lovers can gawk at the spectacular waterfalls, gorges and Cayuga Lake. Not to mention, the area is filled with delicious eateries, local art galleries and an array of vineyards.
The Resort At Paws Up, Montana
Whether you want to explore on horseback or enjoy top-of-the-line spa sessions, this majestic destination is the perfect marriage of nature and luxury. Experience unspoiled wilderness first-hand at a five-star resort.
Moab Under Canvas, Utah
Located between two national parks, this resort is a go-to for the adventure seeker—raft the Colorado River, ride in a hot air balloon over the valleys or mountain bike through the quaint town of Moab.