Forget About Your Flight, It's Time To Upgrade Your Luggage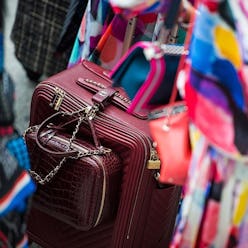 With the holiday travels just around the corner, it's time you trade in your same, old suitcase, dusty duffle bag and basic backpack for some of this season's more stylish counterparts. So to help you find the perfect bag for your travel needs we've rounded up the chicest travel bags out there. From the vintage inspired to those that transform and even a bulletproof trunk (in case you're trying to get in touch with your inner Bond girl), these 7 stylish pieces are the secret to a more sophisticated trip.
Bon Voyage
The Men's-Inspired Weekender
While this bag is technically part of the Ralph Lauren men's collection we don't mind one bit. Perfect for a mini-getaway, this weekender bag is crafted in Italy from vachetta leather and inspired by the vintage English saddlebag for just the right mix of elegance and rustic.
The Insta-Worthy Roller
This ultra sleek suitcase is all about keeping it minimalist and modern. With a lightweight aluminum outer shell and easy 4-wheel rolling system, this classic Rimowa design pairs nicely with any outfit you choose to travel in (hello, airport Instagrams) and is easy to maneuver for those who are known to overpack (guilty).
The Chic Convertible
This 2-in-1 tote and backpack (made to order from one piece of leather in Los Angeles) easily transforms from a stylish tote to backpack for all of your carry-on needs. Because the only thing better than 1 gorgeous bag is 2.
The Carry-All Carry On
If your ideal travel bad is one that can hold all of your must-have essentials from Evian mist to a handful of magazines, this is just the bag for you. Named for its ability to hold everything you need, the Givenchy Nightingale "Hold All" is the epitome of a jet-setter's carry on.
The Vintage-Inspired Suitcase
This Tokyo based brand is all about keeping it old school with buckles, leather, and snaps. So if you're all about the vintage vibe then this trunk style suitcase is the perfect bag to complete your travel look.
The Timeless Trolly
Covered in the classic Bottega Veneta criss-cross weave, this butter soft leather trolley case in black is the be all and end all when it comes to the ultimate designer suitscase.