The Fashion Girl's Guide to Austin, Texas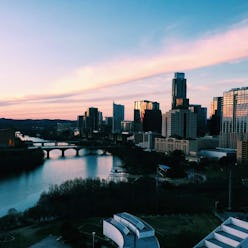 Whether you're in it for the tech panels, live music or just to eat your weight in barbecue, SXSW is only one excuse to book a last-minute trip to Austin. Here's the rundown on our favorite places to shop, dine and stay on a trip to the Texas capital.
Hotspots In Austin, Texas
Where To Stay
Hotel Van Zandt
A brand new Austin hotel, Hotel Van Zandt is stumbling distance from Rainey Street—the legendary road comprised of homes-turned-bars. After a night out, sink into a luxurious bathtub and enjoy a moment of relaxation overlooking Town Lake.
Hotel San Jose
In the middle of the South Congress action but still quaint, Hotel San Jose is arguably the most iconic place to stay in Austin. If you need a shopping break, pop in for one of their amazing micheladas.
South Congress Hotel
Once you've checked in at the brand new South Congress Hotel, plant yourself poolside for a relaxing day overlooking the Austin skyline. From the delicious restaurants to the in-house nail salon, you'll never have to leave your hotel (though keep reading and you'll be convinced otherwise).
Where To Eat
Torchy's Taco's
An Austin institution, Torchy's is the one restaurant we want to pack into our suitcase and bring home with us. Their wide assortment of tacos is affordable and unexpected—think: fried avocado breakfast tacos.
Black's Barbecue
Head to this no frills establishment and order at the counter—you can't visit Austin without indulging in some finger-lickin' BBQ. Blacks is a great option if you're not feeling the 2 hour line at the famous Franklin Barbecue.
Odd Duck
Everything at Odd Duck is farm-to-table so get there early as quantities are limited. When you've OD'd on brisket, make a brunch or dinner reservation here and prepare your palette for one of the most innovative meals in town.
Salty Sow
First thing's first: if you're a vegetarian, Salty Sow is not the place for you. Start your meal with an order of their epic duck fat fries followed by the bacon-wrapped pork filet. Don't leave without trying their bananas foster—it's, well, bananas.
Barley Swine
Gather with your family and friends to gorge over Barley Swine's farm fresh meals. With it's ever changing seasonal menu, try a little bit of everything thanks to the shared plate and tasting options.
Where To Drink
El Sapo
Three words: Watermelon tamarind margaritas.
Garage Bar
The easiest-to-miss can't-miss bar in Austin, Garage Bar is located inside of a parking structure. As strange is it may sound, make your way towards the discreet door and inside you'll find a '20s inspired cocktail bar. They won Austin's 2015 cocktail of the year award so they must be doing something right.
Easy Tiger
The perfect combo of bakery and pub, this is one of downtown Austin's best hangouts. Order their garlic sausage in a pretzel bun while lounging in their impressive outdoor beer garden.
Where To Vintage Shop
Archive Vintage
Head to this designer vintage mecca on South Congress for an impeccably curated selection of Chanel, YSL and..do you really need more convincing? It's basically a fashion girl's dream.
Charm School Vintage
So you're more of a Penny Lane but your BFF is totally the 2016 Angela Chase—we got you. Charm School Vintage has something for everyone, as long as you love clothes with a story.
Flashback Vintage
As soon as you walk through the front door of this house (yes, an entire house), you know it's going to be good. Every room is filled to the brim with vintage treasures spanning decades, and the prices are surprisingly affordable. Best of luck deciding between that '60s floral shift dress or those '80s lurex pants.
Feathers
If Austin style was a vintage store, it'd probably be Feathers. There, you'll find an eclectic mix of bohemian dresses, perfectly broken-in cowboy boots and handmade jewelry, with a dash of '90s nostalgia thrown in for good measure.
Uncommon Objects
Antique knick-knacks more your thing? Well, you've come to the right place. Uncommon Objects is kind of like exploring your cool, eccentric aunt's attic, except you can buy everything. Oh, the things we've tried to fit into our weekender.