The Editor-Approved Guide To Rome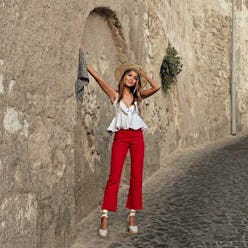 On my most recent trip to Rome, I made the mistake of asking my taxi driver how his day was going. "Shitty," he replied, grumbling about how the streets were clogged with traffic, buildings were crumbling, the city was mired in debt and the government didn't give a damn. Everything was better 20 years ago, he whined. Romans will often lament the city's decline, as if they're once again on the cusp of the fall of their Empire.
But looking around, the city didn't seem that much different than when I lived there seven years ago. In fact, to an outsider, Rome looks pretty damn spectacular. The so-called crumbling buildings with their sun-faded, ivy-covered façades ooze character. Sure, the traffic is a pain, but drive a Vespa (or hop on the back of one), and you can weave around the cars. If anything, the city has become more international—one of the trendiest spots in town is an upscale Japanese restaurant. The ubiquitous white subway tiled bistro style is catching on. And the much-beleaguered Metro line C is finally (mostly) up and running.
Perhaps now, more than ever, a guide to Rome will come in handy, whether you're going for the first time or the tenth. Because things change—old favorites shut down or lose their luster, new places pop up, and tried-and-true classics are worth rediscovering. So here are some of my favorite places to eat, drink, shop, see and sleep at.
Where to Stay
Palazzo Dama: Chandeliers from the Plaza Hotel, velvet banquettes, original boiserie, oil paintings and neon word art—this is an aristocratic palazzo revamped for the Instagram Age. It's also the only hotel in the city's historic center with a pool and a Peruvian-Asian fusion restaurant. The location just steps from Piazza del Popolo is a bonus.
G-Rough: Design lovers will geek out over this pint-sized hotel smack-dab in the historic center. The vibe is rough-luxe, with mid-century modern furniture (Sputnik chandeliers, Smeg refrigerators) juxtaposed with the historic building's raw, aged plaster. There aren't a lot of amenities or common space, except a sleek street-facing bar and a small breakfast room, but it's a worthwhile trade-off if you're planning to spend most of your time out and about.
Generator Hostel: Most of Rome's budget accommodations are less than appealing, but this new hostel by the Generator brand—which seems to be taking over Europe—is the exception. The design is fun and eclectic, with a mix of colors and patterns. A bed in a shared room costs 15 Euros, or you can get a private room for just 40 Euros.
Where to Eat
Da Enzo al 29: Word has gotten out that Da Enzo is a real-deal Roman trattoria of the first order, so expect to wait. The tables are crowded in next to each other and covered in checkered tablecloths. Inside, the wood paneling hasn't changed in decades. But you're not here for the ambience; you're here for the burrata with tomatoes and basil, the tonnarelli cacio e pepe, the carbonara and the mascarpone mousse with raspberries. You'll eat well without spending a lot.
Pizzeria ai Marmi, 53 Viale di Trastevere: Technically this place has another name, but everyone calls it Ai Marmi because the tables are slabs of marble. And though that may seem fancy, this is a decidedly no-frills spot. Stepping inside, you feel like you're teleporting back in time to the '50s, but this isn't a vintage-inspired recreation. It just hasn't changed in about 50 years. There's always a line, but it moves pretty fast. All they serve is thin-crust Roman-style pizza and antipasti (get the fritti, or fried starters). Don't forget the beer.
Giulietta: First of all, Cristina Bowerman is Rome's only female Michelin-starred chef. Second, she has pink spiky hair. Third, she's not afraid to think outside the box, putting blueberries on a pizza with anchovies and pine nuts. Technically, Giulietta doesn't have a Michelin star (her Trastevere sister restaurant, Glass, does), but it showcases what Bowerman's all about. She recently took over a massive abandoned warehouse in Testaccio, putting trattoria Romeo Chef & Baker next door to Giulietta. You can't go wrong with either one.
Gelateria al Teatro: Sure, you can wander into a random gelateria and get decent—even good—gelato, but this spot on a lovely cobblestoned street is worth seeking out for flavors like raspberry-sage and white chocolate-basil. Plus, you can watch through the window as they carve hunks off a giant slab of chocolate and see the fresh fruit they're using.
For the full guide to Rome, go to Nylon.