The Most Fashionable Travel Bloggers To Follow On Instagram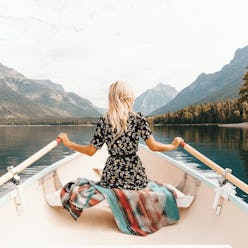 Ah, the love/hate relationship that is following travel blogs. A jet-setter's feed can make you feel like you've been living your worst life—especially if the farthest you've ventured this month is from your apartment to work (and back again). On the flip side, a constant stream of aspirational images featuring exotic and under-the-radar locations can actually get the ball rolling if you're planning a getaway of your own. (No travel agent required!) Scroll through ahead for seven must-follow Instagram accounts that unite style and globetrotting in the most beautifully curated way. Just don't let the aesthetics intimidate you—some scenic spots are closer to home than you think.
@tuulavintage
Follow for: Exotic beaches, pretty plates and bohemian outfit inspiration.
@finduslost
Follow for: Breathtaking architecture and #CoupleGoals.
@alwaysjudging
Follow for: Photogenic hotels, the best restaurants in town and cool-girl vacation style.
@gypsea_lust
Follow for: A firsthand look at the most unique places in the world—and what to do when you get there.
@polabur
Follow for: The prettiest cities in Europe, along with the most colorful locales in the world.
@collagevintage
Follow for: Seaside stays and the cutest ways to accessorize abroad.
@theblondeabroad
Follow for: Destinations far and near—some of which may be right in your backyard.