How To Shop Like A Local In Milan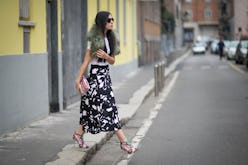 What better time to discuss Milan's best-kept shopping secrets than in the midst of MFW? While fashion insiders are currently flocking to the city for the Fall '15 shows, Milan remains a retail-therapy destination for tourists year-round. We tapped our favorite Italian-born-and-raised blogger, Marta Pozzan of It's Super Fashion, to reveal her favorite shopping destinations around the city.
Marta of It's Super Fashion
Photo: Timur Emek
Cavalli e Nastri
"Each piece in this well-edited collection is in perfect condition and selected with a very sharp eye—this is the crème de la crème of vintage. Cavalli e Nastri is the only place to find incredible limited-edition Fendi and Chanel bags."
Antonia
"Antonia is the Milanese multibrand boutique everybody is talking about. Their exclusive Nike capsules are sold out before you even hear about them. They have the best selection of Paula Cademartori, YSL, Stella McCartney and Proenza Schouler, plus the craziest collection of Sophia Webster pumps you can imagine."
Nilufar
"Nilufar is a destination for people who love historical design and who appreciate contemporary art. Every piece you'll find here has its own story."
Tad
"Tad is one of Milan's better-known multibrand concept stores where fashion, furniture design, accessories, books, music, food and beauty products unite."
La Vetrina di Beryl
"La Vetrina di Beryl is an iconic shoe store located in the bourgeois-chic Via Statuto, known to attract a very sophisticated and refined clientele. Among their brands are Chloé, Marc Jacobs, Miu Miu, Sartore, Pantofola d'Oro, Heidrich Guabello and Tatoosh. I love their selection of sneakers and platform shoes—they're always so colorful and fashion forward."
Spazio Pontaccio
"Since 2002, Spazio Pontaccio has become one of the most fascinating design stores in Milan. It is truly a concept store that embodies a very unique Milanese sense of style—both in art and fashion. Among the designers they carry are Marcel Wanders, Patricia Urquiola, Philippe Starck, Oki Sato, Piero Lissoni, Arik Levy and Tokujin Yoshioka."
Corso Como
"Corso Como is the city's ultimate fashion destination, founded by gallerist, publisher and fashion guru Carla Sozzani. The store is a labyrinth of curated goods, from art and fashion publications to a gallery space with special installations. Internationally known names can be found alongside the world's brightest emerging designers, which Carla and her sister, Franca, handpick. These artists' careers change forever after becoming members of the Corso Como family."
Giada
"Giada is a Chinese-owned, Italian-designed fashion-branding space that attracts buyers from all over the world. The store has become iconic thanks to the vision of [architect] Claudio Silvestrin, who designed all of the Armani stores. Giada also plans to open stores in Paris, London and New York."
Originally published in 2015.