The It Girl's Guide To LA Brunches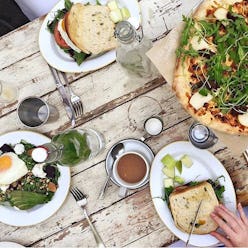 With spring in the air and so much sunshine to soak up, there's no better way to celebrate your treasured days off than brunch with your crew. Arguably one of the country's brunch capitals, LA is home to a slew of spots that boast fantastic food and Instagram-worthy decor. To help you navigate the goods, we've gathered the coolest restos local It girls frequent for the most leisurely meal of the week. Learn more about their top picks ahead.
The Butcher's Daughter
Calling itself a "vegetable slaughterhouse," the Butcher's Daughter is a vegetarian-friendly spot sitting on Abbot Kinney Boulevard. White exposed brick, rose gold barstools and an outdoor fireplace and patio flow together effortlessly.
1205 Abbot Kinney Boulevard, Venice
Commissary
In a photogenic greenhouse at The Line Hotel, Roy Choi's Commissary stands out among neighboring Koreatown office buildings. While waiting for a table, head to the bar for a drink and jam out to the DJ's playlist. Every weekend, the place is packed with couples and It girls snapping pictures of the overflowing breakfast buffet table. Be sure to end your outing with a peek at the rooftop pool.
3515 Wilshire Boulevard, Los Angeles
Daily Dose Cafe
Tucked away in an Arts District alley downtown, the cafe opens its doors at 8am for the perfect early kick start to the weekend. Think exposed brick, fun lighting and avocado toast—what could be more LA than that?
1820 Industrial Street, #260, Los Angeles
République
République opened its doors at the end of 2013 and quickly became a hit on the LA brunch scene. The French-inspired restaurant offers a standout menu in gorgeous environs. The ricotta toast and French omelette are on the must-try list.
624 South La Brea Avenue, Los Angeles
The Hive
LA is known for its obsession with health trends, and this Santa Monica hot spot is no exception. The organic restaurant has collaborated with Ron Teeguarden's Dragon Herbs, Anima Mundi Apothecary and natural-foods chef Julie Morris to design a unique menu. It encourages customers to "Bee Yourself" and explore herbs and organic options (some are vegan-friendly). Try the Iced Coconut Americano and the Ironman Chia Pudding Organic Superfood Bowl.
606 Broadway, #102, Santa Monica
Eggslut
This nugget of gold is located in the heart of DTLA, tucked into a nook of Grand Central Market (and new locations in Venice and Glendale!). With a row of barstools for a few lucky customers and an industrial-looking booth, Eggslut offers unique, delicious takes on traditional egg dishes.
Grand Central Market, 317 South Broadway, Los Angeles
Malibu Farm
Overlooking the Pacific Ocean, Malibu Farm Cafe is perched at the end of the Malibu Pier, where customers enjoy quaint decor and patio seating. Its sister spot, Malibu Farm Restaurant, is located at the other end of the pier and offers a wide variety of food and cheerful vibes. This classic destination is perfect for sunny days away from the chaotic city. Be sure to try (and gram!) the Fried Egg Sandwich.
23000 Pacific Coast Highway, Malibu
Winsome
This Echo Park spot has been the talk of the town since its opening last year. Its one-of-a-kind menu makes for an adventurous brunch. Our favorites include the mouthwatering Duck Egg Toast or the Potato Rosti. Get there early as the line is almost always out the door. While you wait, order a cup of coffee at the counter. (The cold brew is to die for.)
1115 Sunset Boulevard, Los Angeles