The 6 Most Instagrammable Hotels In The World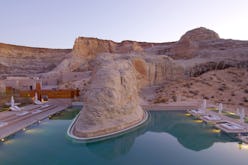 These days a blogger's perfect Instagram shot of a resort's grandiose courtyard or a trendy hotel's retro-inspired bathroom is all it takes for us to book ourselves a getaway. After all, if she spent a week relaxing fireside at a charmingly indie motel in Ojai, it's photographic proof the place is probably worth a visit. From a shockingly scenic resort in Utah to a boutique hotel in Honolulu that boasts mid-century island vibes, these are undeniably some of the most photogenic hotels in the world.
Amangiri, Canyon Point, Utah
The chic and serene Amangiri resort is literally built into the surrounding landscape. If you think the pool is incredible, just wait until you see the suites.
The Ludlow, New York City
You might know this Lower East Side hotel by its picturesque washrooms (creatively 'grammed by every guest who has spent the night). Its cool, modern decor is the ideal backdrop for a long weekend in the city.
Hôtel Providence, Paris
Further proof Parisians do it better. Decorated in rich hues and vintage furnishings, this boutique hotel is a must-stay.
Ojai Rancho Inn, Ojai, California
Whether you're taking in the scenery from a nearby hiking trail or your room's doorstep, a night (or three) spent at this California gem will not disappoint.
Suján Rajmahal Palace, Jaipur, India
Not everyone has the chance to hop on a plane to Jaipur in their lifetime. But if you do (jealous), definitely stay here. It's so stunning, we can't believe it's real.
The Surfjack, Honolulu
The next time you visit Hawaii, forgo your stay at a commercial resort for this charming hotel in Honolulu. The Surfjack fuses classic Hawaiian culture with mid-century design, resulting in a very unique way to vacay. We really love the pool, too.